This post may contain Amazon® product affiliate links. We may receive a commision if you make a purchase after clicking on one of these links but at no cost to you. Please visit Our Privacy & Disclaimer Page for more information. Thank you.
Is The "mini" Anker PowerCore Jump Starter Too Small?
When it comes to compact jump starters, you can't get much more compact than the Anker PowerCore Jump Starter.
There are some great sales promises here for such a small device, as it claims to jump a dead battery with the capacity for 15 jump starts on a single charge. There seems to be plenty of potential in the specification, but how does it perform?
Check Current Price and Availability on Amazon
The Pros and Cons of this Anker PowerCore Jump Starter.
Pros:
the compact size
the charging capabilities on many vehicles
extra features like the light and indicators
Cons:
some issues getting the device to charge because of the leads
some concerns about the lifespan of the device.
This Anker PowerCore Car Jump Starter really is tiny, but can still handle the job fairly well. 
The main selling point here is the size. This portable jump starter really is tiny, with cute like clamps to match. Some will find them too small, while others will appreciate the ease of storage.
The unit doesn't have a large body, but it still has many of the features that users expect, such as the LED flashlight, status indicators and a rugged housing. This emphasises that idea of a miniaturised jump starter, rather than a small device that happens to charge car batteries.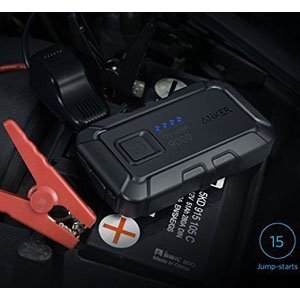 User are also impressed with the consistency of the charge on their dead batteries. There are cases where it doesn't perform as hoped, but that is true for larger models too.
On the whole, this Anker jump starter does have the power to meet basic needs and isn't difficult to use or understand.
Unfortunately, the Anker PowerCore Battery Jumper does suffer from some issues when it is time to charge the device itself. 
First of all, there are some complaints about the lack of hardware with this unit. The company boast about the lack of annoying wires and space saving design. Yet, this sometimes also means a lack of charging wires.
There is the expectation of a USB cable to recharge the unit, but some don't receive it. Then there is a concern over the longevity of the Anker jump starter. There are a couple of buyers that have returned to this unit after a period away to find that there was a bulge in the middle.
This suggests that the battery wasn't in good health and on its last legs. Understandably, they didn't want to risk charging it in case it exploded.
What does this all mean for the final recommendation on this Anker "Mini" Car Jump Starter?
There is an underlying question here of whether or not size really count. It does in this instances, for both positive and negative reasons. The positives include the space saving design and the fact that a small device can still pack a decent punch.
The downsides – in this case at least – are the inability to add a more reliable battery and the lack of cables. The appeal is therefore down to your needs as a motorist. If you want a device for occasional jumps that is easy to store and not complicated to use, the portable Anker jump starter could be of help.
Find more reviews about the Anker PowerCore Jump Starter on Amazon here.