This post may contain Amazon® product affiliate links. We may receive a commision if you make a purchase after clicking on one of these links but at no cost to you. Please visit Our Privacy & Disclaimer Page for more information. Thank you.
Can The Truck PAC ES6000 3000 Jump Starter Offer A Considerate Design And Great Performance?
This Clore Automotive Truck PAC ES6000 3000 Peak Amp 12V Jump Starter appears to be a capable, powerful product on paper, with the promise of 3000 peak amperes/800 cranking amperes, but there are extra features in place to increase its appeal like the quality of the Hot Jaw clamps, the extra-long cables and the impact-resistant case.
It seems like some extra thought has gone into the design of this product and that it will prove to be a great purchase, but what do buyers think?
>>Click Here for Current Price at Amazon<<
What benefits have buyers noted in their reviews of this Portable Truck PAC ES6000 3000?
There are many positive reviews being written for this product with plenty of individual comments being made but they can all be grouped together under one theme – reliability. One way this can be seen is in the amount of different vehicles it can start.
Many users say that it will start almost anything and this seems to be true with different reports being written on cars, trucks, tractors and even boats. This capability is no doubt due to the power of the twin high-performance ES Series batteries.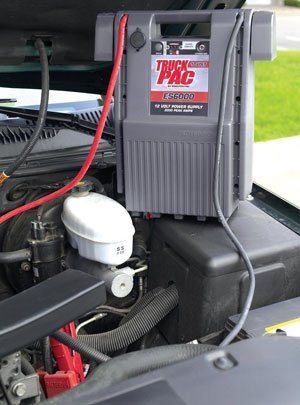 To boost this benefit even further, the device also has ability to work when it should be hindered by other factors.
The Truck PAC ES6000 3000 Peak Amp 12V Jump Starter has been successful when trying to start vehicles with almost completely drained batteries, when working on multiple cars in a row and when the outside temperature has been very low.
It clearly has the performance but what about the design? Has the Truck PAC ES6000 Jump Starter been well-thought out or is it flawed?
Unfortunately, while many appreciate the casing and long cables, there are some odd choices in the design that lead to less favourable reviews. The product description mentions the benefit of automatic charging and the way that this, alongside the battery status LEDs, "make operation easy and convenient".
However, buyers are more keen to talk about the fact that the device has to be permanently plugged in and that there is no on/off switch.
Another design flaw is the way the clamp holders do not hold the clamps properly. In addition to these problems, some comments have been made about the safety and longevity of the jump starter.
Some are wary of it after the sparks that were produced when the cables touched and others feel the life is too short, the product lasting no more than a year in some cases.
Summary: Is this Truck PAC ES6000 3000 12V Jump Starter's design too flawed or is it still recommendable?
There are some clear design faults here that will put off prospective buyers looking for the most convenient model and it could have a longer life but the performance behind all these questionable features is what makes this device so recommendable to new users.
The bottom line is that even though it will be left permanently on with no off switch, it can still handle any task given to it in any condition. The Clore Automotive Truck PAC battery jumper is not the most thought out product going but if you want a jump starter that is reliable and you don't mind the odd quirk in the design, this could be a worthwhile purchase.
You can check out more customer reviews about the Truck PAC ES6000 3000 Peak Amp 12V Jump Starter on Amazon here.