This post may contain Amazon® product affiliate links. We may receive a commision if you make a purchase after clicking on one of these links but at no cost to you. Please visit Our Privacy & Disclaimer Page for more information. Thank you.
A Jump Starter Buying Guide For Better Roadside Assistance
There are probably many car owners that wouldn't really think that hard about the ideal jump starter. As long as it starts the car with ease and gets them out of an inconvenient situation, it is fine.
However, there are actually lots of different aspects to a device in order to consider it one the best jump starters around. Once motorists try new models with some of these features, they won't go back.
In this car battery jump starter buying guide we will look at the following:
the ease of starting a car
the power of the system and its battery
the ease of use more generally
the durability of the machine for tougher situations
portable, compact machines for greater convenience
additional functions for multifunctionality
the safety of the device
Starting a car – or any other vehicle.
The ability to start a car, as effectively and quickly as possible, is a basic requirement with these machines. They must have the power and reliability for a quick start in different situations. Check the operating temperature range, the peak amps and the number of jumps per charge for a better idea of its functionality in different situations. It helps to ask yourself precisely what this is for.
Is this for small scale emergencies to keep in the glove compartment?
Is this for more professional situations and multiple jumps?
Is this for smaller cars and machines, or big trucks, boats or RVs?
Does it need to be able to handle cold temperatures?
This where you need to check the specifications and parameters carefully. Take a closer look at the battery capacity, charging options, charge time, amps and any other information about the advertised performance.
With a tough battery and reliable performance comes the need for a tough design and durability.
The last thing that any car owner wants is a device that breaks on a job, or wears out in months. Will your chosen model handle rough treatment, say if it is dropped or falls off the car? How tough is the casing? Is it weatherproof for working out in the rain? Durability is also important in the clamps and other connective parts. Heavy duty components will last longer than cheap plastic.
Then there is the general ease of use for less experience users.
How easy is this machine for a newcomer to operate? Some buyers give these devices to their partners and kids as a form of backup, even though they have no experience in jump starting cars. Therefore, it must be obvious where to plug in the cables for the right results.
This means clearly labelled ports and helpful manuals where possible. LED displays are also a good idea as they provide helpful information on power, charge time and the battery life of the unit.
The next feature to consider in this jump starter buying guide is the portability of the device.
There are many old fashioned models that work great, but have some problems with the size. They are heavy and bulky and take up space in the back of the car. Modern machines are much slimmer and fit in the glove compartment.
They still have the same capabilities but just in smaller tech. Many also come with a simple travel case where users can store all the additional leads and components.
Many of the top rated battery boosters that are around these days don't just start a car.
There is great appeal in systems that offer multifunctionality for other situations. Many sell themselves as 2-in-1 or 3-in-1 models, which means some combination of the following:
car battery jump starter
electronics charger
flashlight
The first additional function to look out for is the addition of a light. Many have some form of white LED for roadside illumination on dark jobs. Some will also strobe or flash to alert other motorists. Others will charge more than the car battery as they have alternative charging points and outputs for electronics.
This means that you can charge a phone on the passenger seat. Then there are those that have an air compressor built in to inflate tyres. Some of these machines are better than others. Some will use a lot of battery and increase the dimensions for a compressor that is a little weak. Others are surprisingly multifunctional and compact.
Staying safe on the roadside.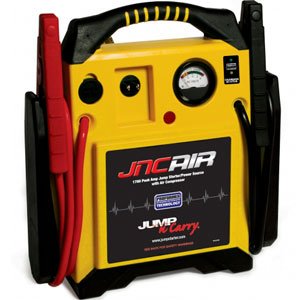 This talk of the flashlight for roadside assistance brings up an interesting point regarding the safety of these machines. Safety on a dark road is one thing, but users need to be sure that the whole system is safe to use.
Most of the best jump boxes on the market right now offer a great range of protective features for the current of the charger. It will protect the car battery, the battery of the system but also the user. The safety then continues with the type of clamps used.
Take the time to really understand the features and capabilities of these machines before buying.
The choice that we make here could make a huge difference to our own experiences, and those of loved ones. The right choice could ensure that we are up and running in minimal time thanks to a great system, reliable battery and ease of use in any condition. The worst could see family member struggling in the dark with a weak, under-performing model.
This is why it pays to read the specifications and user reviews carefully. The specifications offer a great idea of the components and details. Here you can see just how compact it really is, what safety features are included, the technical specs of the power source and its compatibility with other vehicles. However, it is the user reviews where you get the best idea of performance and design flaws.
Here you can see just how well the lights, displays and connections really work. You can see how many times it took, on average, for users to start a car. With all of this information combined – the specs, tips and this user's buying guide – you can then pick the best jump starter for your needs.