This post may contain Amazon® product affiliate links. We may receive a commision if you make a purchase after clicking on one of these links but at no cost to you. Please visit Our Privacy & Disclaimer Page for more information. Thank you.
Does The POTEK Car Jump Starter Offer True 3-in-1 Functionality?

Multifunctionality is essential when looking at roadside assistance kits like the POTEK Car Jump Starter. This system really does try and offer everything that users might need.
There is the basic starting point of battery the jump starter, with 1000 peak amps, but also an electronics charger via USB and a 150PSI air compressor.
The aim here is that this should provide all the essentials motorists require within one easy-to-use system. Does this model do everything it should, or are there some underlying issues?
Check Current Price and Availability on Amazon
The Pros and Cons of this POTEK Jump Starter:
Pros:
Lots of helpful tools for roadside assistance
A decent performance for most vehicles and electronics
A nice user-friendly design
Cons:
Some faulty units that won't charge
Concerns over the safety features.
This well-designed POTEK Car Jump Starter does a pretty good jobs in many situations. 
The first thing to talk about here has to be the performance of the different elements within this system. There are fewer comments on the air compressors, probably because it wasn't needed as often, but most found it convenient enough. The jump starting system is also pretty reliable on dead batteries and the electronics charger is a nice extra feature.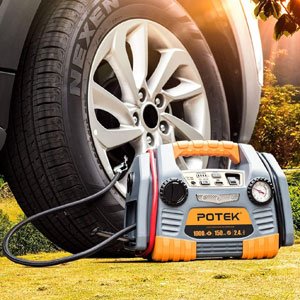 The more interesting side of this system is the design. There are users that are surprised at just how compact and lightweight this unit is considering the amount of features within.
Buyers can pick it up via the carry handle on top, transport it around and have little trouble. Female reviewers are especially impressed with this consideration.
Then there are other helpful details like the storage areas for the cords and accessories and the LED status indicator for the life of the battery.
The problems with this POTEK 3-in-1 Car Jump Starter lies more with what isn't there, rather than the features included. 
The user reviews for this system are pretty good. There are a few that had faulty items that wouldn't hold a charge, but most users are impressed with the function of the device. The biggest issue here might be the safety rating.
There are lots of warnings from the company about switching the system off when not in use, avoiding contact between the clamps and charging the battery correctly. While this is all helpful, it does suggest that this system doesn't have the charge and circuit protections of other models.
How does this all affect the final verdict on this POTEK Charger/Compressor/Car Jump Starter?
There are lots of models out there that claim to be 3, or even 4-in-1 devices for roadside assistance. Yet, one of those features is often a light or a different charging port. This model is a true 3-in-1 machine because of the clear benefits of the jump starter, electronics charger and air compressor.
Users do need to ensure that they follow the safety and charging guidelines carefully to avoid problems. But, the reliability of the components and user friendly design mean that this POTEK jump starter is a great choice for many motorists.
Find more reviews about the POTEK Car Jump Starter on Amazon here.