This post may contain Amazon® product affiliate links. We may receive a commision if you make a purchase after clicking on one of these links but at no cost to you. Please visit Our Privacy & Disclaimer Page for more information. Thank you.
Choosing The Right Top Rated Jump Starter With Air Compressor
There a lots of great roadside assistance tools out there that try and provide lots of functions in one device. A true 3-in-1 model is one that offers a jump starter, electronics charger and an air compressor.
[table id=4 /]
The best of these devices don't leave this compressor as an afterthought either. Instead, they create a great comprehensive system.
What should we look out for in a top rated jump starter with air compressor?
The air compressor must have the right specification for the job. This means the right pressure for your tyres and suitable connectors for a simple process. Ease of use also relates to the settings and displays on the device.
Designers must offer similar attention to detail and quality with the jump starter too. This means high-quality, safe clamps and the right amperage. Finally, check the specification to learn more about the outlets for electronics charging, the light or any other additional features.
5 Top Rated Jump Starter with Air Compressor Units to Choose Between:
1) Jump-N-Carry JNCAIR 1700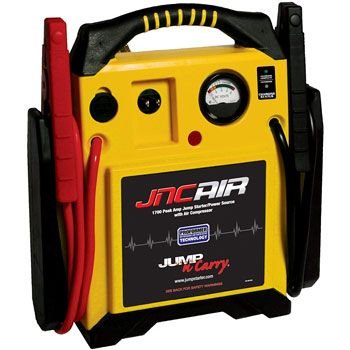 This model from Clore Automatics adds an effective air compressor onto a popular model. This air compressor promises high pressure to inflate a flat 15'' tyre in 7 minutes. It does so with 12 foot hose and secure screw on chuck.
One user claims to have restarted a truck and inflated all four tyres will little impact on the status of the battery. It seems to be reliable and consistent enough for most users.
The air compressor is a secondary element compared to the charging features on this Jump-N-Carry JNCAIR 1700 jump starter. There are 1700 peak amps travelling through industrial grade clamps and a built-in automatic charger. Another benefit with this model is the portability.
There are storage areas for the clamps and a nice handle on the top. Additional features are minimal, such as the choice to only include a 12V outlet, but there are still some helpful dials and indicators.
2) DEWALT DXAEPS2: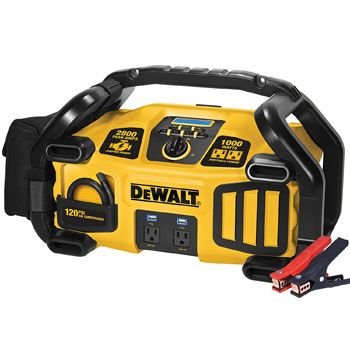 This DEWALT DXAEPS2 Professional Power Station tries to provide a little bit of everything that users might need in one device. There is a 2800 peak amp jump starter for charging dead batteries. This charging system comes with powder coated heavy duty metal clamps and an LCD display for status updates.
Then there is the 120 PSI air compressor with the SureFit nozzle and automatic shut-off. Then there are the electronics charging capabilities with the dual USB outlets. This is all finished off with an LED light.
The great thing about this model is that they pack all these features into such a small, portable model. There is a strong handle over the top and a neat little storage bag on the side. This bag is ideal for the clamps and cables when not in use. The full package should help a lot people in different situations.
Related Content:
3) POTEK JS87: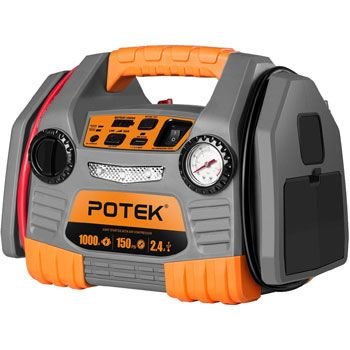 This Potek car jump starter is a great looking model that immediately looks like a multifunctional device for different roadside problems.
This grey and orange machine (not black and yellow for a change) combines jump starting, tyre inflation and electronics charging in one well-designed system. It does so with dials and indicators in all the right places, as well as great cable storage for the clamps.
The air compressor on this model has a little more behind it than some of the other models in this guide to the best top rated jump starter with air compressor. This is a 150psi model that is said to be ideal for tyres, balls, bikes and most other inflatables.
There is also the choice of a USB and 12V output on the electronics charger and 1000 peak amps on the jump starter. This high performance model should prove to be easy to use in an emergency.
4) Rugged Geek RG1000:
This Rugged Geek RG1000 Safety Plus Portable Car Jump Starter does things a little differently. Rather than provide an all-in-one model with everything in one body, this unit comes with a series of accessories. The basic system is a tiny 1000A jump starter and electronic charger.
This glove box friendly model has a durable casing, nice grip, a LED flash light and a series of outputs on the side. There is no room within this device for anything else. So, the company have added a compatible air compressor to the package.
This air compressor is a small 12V system that connects up to the system for a little help with flat tyres. It is also small enough to sit alongside the other cables and accessories in the additional storage bag. This really is just a fun extra that might help in an emergency. Still, the brand put in enough thought to add a gauge.
5) DieHard 2871688 Platinum: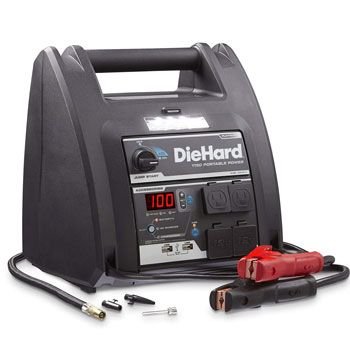 The dull, plastic look of this Die Hard portable jump starter makes it look like a lesser model than some of the options above. It certainly has a slightly milder specification with the 100psi air compressor.
However, there are still plenty of interesting features here behind the boring facade. Little details like the port covers, LED indicator lights and simple controls all add to the ease of use and quality.
The compressor ticks a lot more boxes than the one above. It is built-in with great storage and helpful features. This includes the automatic shut off to prevent over-inflation. This compressor accompanies the 1150 peak amp jump starter and both USB and 12V electronics charging.
In fact, this feature might be the star of the show, rather than an add-on. That isn't to say that the other features are weak. This can still help in an emergency.
Choosing the right top rated jumper with air compressor.
There are two options when bringing an air compressor into this equation. The first is to find a brilliant jump starter that offers a compressor as an accessory. This could work well if the charging capabilities are a priorities and you are short on space.
However, there are still plenty of portable models with a decent built-in air compressor. Read the specifications and reviews carefully for a better idea of what is in store. Try and find the model that meets as many needs as possible.