This post may contain Amazon® product affiliate links. We may receive a commision if you make a purchase after clicking on one of these links but at no cost to you. Please visit Our Privacy & Disclaimer Page for more information. Thank you.
Is There More To The Battery Tender BTL35A480C Lithium Iron Phosphate Battery Than A Light Weight?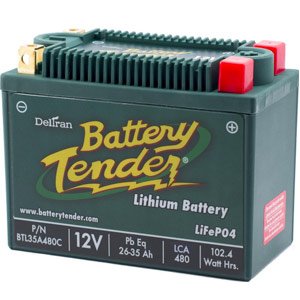 The Battery Tender BTL35A480C Lithium Iron Phosphate Battery is a model with a quad terminal configuration that is designed to replace the Yuasa Battery YIX30L-BS. This 12V model has a cold cranking amperage of 480, a maximum charge rate of10 Ampere and an operating temperature between 0 and 140 degrees Fahrenheit.
This should be the ideal replacement for the right motorbike, ATV, dirt bike or even lawn mower, but does it meet the expectations of buyers looking for plenty of power and convenience?
Check Current Price and Availability on Amazon
What benefits have buyers noted in their reviews for this Battery Tender BTL35A480C?
An important selling point with this motorcycle battery is the idea that it is adaptable to different vehicles. This is due to the fact that it can be mounted in any direction and has foam spacers that allow it to fit in different sized battery boxes. This design, the promise of a lighter weight and the small case dimensions also mean that it should be easy to install.
Buyers seem to agree that this is a light, simple model – with some buyers going as far as saying that the model initially looked a bit like a toy – and many put this down to the fact that they have switched to lithium ion.
The result is that there are few complaints about the installation. Many praise this as being the ideal model for their needs because it is so easy to handle and so effective; the problem here is that not all buyers agree with the last part.
Why is there some disagreement over the worth of this Battery Tender BTL35A480C Lithium Battery?
The problem with this model is that there are some very mixed reactions to the performance. On the one hand there are those that say that the product works perfectly for their needs, but on the other there are those that saw a minimal charge and even had the battery "self-destruct" on them.
There is the suggestion that this has something to do with the machine, as there are more positive reviews for motorcycles than for other vehicles. The makers of this battery promise that it will provide a long life, with 5x more longevity than equivalent lead acid batteries. This should lead to a performance of 2000+ deep cycles and an 80% depth of discharge. Understandably, tests have provided conflicting results here.
Summary: is this BTL35A480C Lithium Battery still recommendable with this feedback in mind?
There are some buyers that criticise this system and say that it is too weak or too inconsistent for their needs and say that it is poor product. On the polar opposite side, there are those that give it five stars and say that it was the best choice for their bike because of the lighter weight, great power supply and ease of use.
It is clear that there is a bit of a gamble involved in buying this Battery Tender battery, but if you are sure that it is suitable for your own motorcycle or ATV, you should find that it offers a great performance in a conveniently small package.
Click here for more reviews about the Battery Tender BTL35A480C Lithium Iron Phosphate Battery on Amazon.