This post may contain Amazon® product affiliate links. We may receive a commision if you make a purchase after clicking on one of these links but at no cost to you. Please visit Our Privacy & Disclaimer Page for more information. Thank you.
Choosing Between Top Rated NOCO Genius Boost Jump Starters
NOCO is a popular name when it comes to jump starters and roadside assistance. There are many motorists that rely on their devices in times of need.
[table id=5 /]
The NOCO Genius Boost series should provide all the best features and reliable charging, and there are different options to choose from. This means that buyers can easily find a compatible model.
Check Out The Top Rated NOCO Genius Boost Battery Jump Starters
What to look for when choosing from the best NOCO Genius Boost jump starters. 
The first thing to consider with these products is the charging capabilities. Check the amperage and battery capacity to understand its potential. What time of engines can it jump start? What electronic charging options are there and how many ports are available?
From there, you can consider the size of the product and other design features for ease of use. Check the specification for details on lights, safety precautions and other features. Does it have a travel case? Does it have a voltmeter? Try and match the device to your charging needs.
1) NOCO GB40.
This is where we start to see some improvements with the charging capabilities and a little more promise for car users. There are 1,000 amps in this NOCO Genius Boost GB40, which means up to 20 jump starts and 4 smart phone recharges with just one charge.
It can do so for diesel engines up to 3 litres, as well as gas ones up to 6 litres. There is a charging port for phones and tablets, but also an additional USB in port for quick charging when the appliance itself is running low.
The rest of the jump starter shows many of the same features as the popular, weaker model above. There are 100 lumens to the LED flashlight, with the same 7 light modes. This means that it should be just as reliable in an emergency.
It has a small size, light-up indicators on the front to determine battery status and strong clamps. Those heavy duty clamps retain those must-have protections against sparks and reverse polarity.
2) NOCO GB70
Read Our Review
Once again there is an upgrade here on the charging capabilities. The NOCO Genius Boost HD GB70 Jump Starter has an impressive 2,000 amps for double the power.
This means 40 jumps per charge, not 20, and this time it has the ability to start gas engines up to 8 litres. There are also some improvements to the electronics charging.
Otherwise, this is pretty similar to the NOCO GB40 with the design and other features. There are the same promises of ultra-safe and mistake-proof use with the clamps and set-up. This means that more power doesn't mean a higher risk.
There is also the same multi-function light and small design, with the LED indicators and light weight. This is a great option in the middle of the range. It has enough power to succeed where lesser models fail. But, it is still user-friendly.
See related:
3) NOCO Genius Boost Max GB500.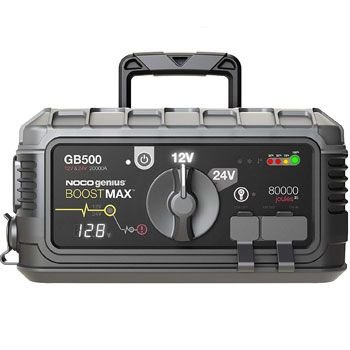 Check Price at Amazon
This model is this guide to the top rated NOCO Genius Boost jump starters is the most powerful. There is a massive increase in power up to 20,000 amps, which makes it suitable for pretty much all engines up to Class 8+. IT also has great potential for high-displacement vehicles and large boats.
There are also 20 smartphone recharges per charge with this NOCO GB500, as well as the added bonus of dual USB ports for multiple items at ones. There is also the ability to switch from 12v to 24v via a simple dial on the side.
Elsewhere there is improved protection in the clamps, more strength in the light at 2,200 lumens, and it is a larger device to compensate for the dial and battery. This larger model fits in a nice travel case for protection and transportation.
4) NOCO Genius Boost Sport GB20.
Check Price at Amazon
This option is the smallest and least powerful of the bunch. The NOCO GB20 is designed for cars with 4 litre gas engines, motorbikes and other smaller equipment. In many ways, this system has all the features and design ideas as its bigger cousins further up the range.
There is the same look to the jump starter, the same tech in the clamps and the same basic processes. The difference is that it doesn't have the same power. There is the same multi-purpose system, with the electronic charger and work light.
However, the light isn't that strong, at 100 lumens, but has 7 different modes. The electronic charger handles phones and tables with 4 recharges per charge.
The design is great for a portable model with the handheld body and a good grip. The buttons are easy to use and there are indicators on the display for battery status. The clamps have the same safety precautions seen across the range.
5) NOCO GB150.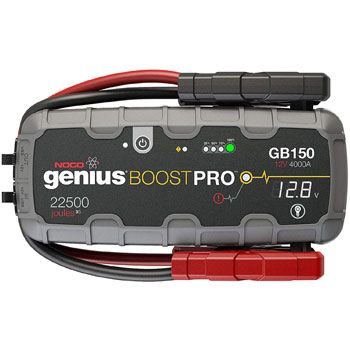 Here we see another doubling in the power and capabilities of this dual purpose car battery jump starter – 4000 amps means 80 jumps starts for engines 10 litres or more on one charge. The NOCO Genius Boost Pro GB150 is also suitable for trucks and boats. There is the same electronics charging system with a strong power supply to tablets and phones.
Elsewhere, there is also the same safe, strong clamp and reliable charging system, the same light but the addition of the integrated voltmeter.
The interesting thing about these bigger models is that while there are clearly many upgrades for a great performance on trucks and more, the system retains many features that made the range so popular in the first place.
It is just as easy to use, but provides significantly more power for different applications.
Choosing the best NOCO jump starter for your needs. 
As you can see, there are many similarities between these products. Until we get to the final, bigger system, there is a surprising amount of consistency in the design and features used. NOCO know that they have a formula that works.
Therefore, it is best to choose a model based on the charging requirements and ports, rather than the design and extra features. Compare the specifications of these top rated NOCO Genius Boost jump starters and find the right model for you.