This post may contain Amazon® product affiliate links. We may receive a commision if you make a purchase after clicking on one of these links but at no cost to you. Please visit Our Privacy & Disclaimer Page for more information. Thank you.
Is The PowerUrus IP66 Portable Car Jump Starter Rugged And Reliable?
The PowerUrus IP66 Portable Car Jump Starter looks like a great choice for any motorist that wants a rugged, compact model to keep in the car.
This system is tiny compared to some products, but looks like it can withstand some rough treatment if necessary.
There are some interesting sales claims about the power and consistent performance of this device. But, does it deliver?
Check Current Price and Availability on Amazon
The Pros and Cons of this PowerUrus IP66 Waterproof Jump Starter:
Pros:
A multifunctional tool for such a small device
Reliable enough for most vehicles
Lots of safety features
Cons:
Some issues getting the device to hold a charge
Some complaints about the layout of the buttons
There is a lot going on in this PowerUrus IP66 Portable Car Jump Starter to appeal to different users.

The first place to start with the benefits of this device is the range of functions. There is a lot going on here for such a small system. The first element is obviously that jump starting system.
Buyers can set this portable model up with the tough clamps and work on a range of different vehicles. In fact, users are impressed at just how many different vehicles they have managed to start with this device.
There are some that find that this starts cars with no problem at all, while others have successfully tried it with tractors and other machinery.
The promise is a quick start on 6.5l diesel and 10l gas engines, as well as lawn mowers and ATVs in the coldest winter months. So far, buyers wouldn't argue against that.
The additional features with this car battery jumper are the charging for the electronics and the light. Both are impressive and reliable when working roadside. There is Quick Charge tech on the dual USB outlets for tablets and other devices.
The light has the benefit of not just offering different modes, but also a different color. It has a strobing effect on the white light to get peoples' attention, but also a red warning light.
Then there are all the safety elements to this system. There are all the typical safety precautions that buyers come to expect when jump starting.
This includes the guarantees against over charging, reverse polarity and short circuiting – among others. But, there is also weatherproofing against rain and dust in case of emergencies in bad conditions. If that wasn't enough, there is also shock proofing, just in case users knock it off the car.
Unfortunately there are a few users that find this PowerUrus IP66 Waterproof Car Jump Starter a little difficult to use.
The biggest problem here seems to be a fault with some of the units in regard to the charge of the battery. Most users don't seem to have too much trouble with this. For the most part, users can charge this up on arrival, use it on multiple vehicles and then leave it with a decent amount of charge left.
Yet, there are some users that say that the product won't hold a charge at all. This seems to be more of a manufacturing fault than anything to do with the design.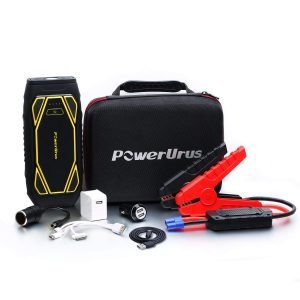 Another potential issue here is the layout of the buttons on the system. This is a small, compact model, so there really isn't that many places that the designers could "hide" a button.
Still, some struggle to find the reset button to adjust the settings. Others have had difficulties turning the system off. Whether this has any relation to problems with the device holding its charge remains unclear.
Is this PowerUrus IP66 Portable Car Jump Box still recommendable with all of this in mind?
There is definitely plenty to like about this system. The designers have done a good job at filling the compact unit with plenty of power and interesting features. The charging capabilities, jump starter and light are all sure to please plenty of users.
The additional safety elements add to user confidence levels, and should help people test this out on different types of vehicle. There is still room for improvement in the design of the device, however.
The placement of the buttons can't alter too much, but there may be room for small alterations. This could lead to fewer issues with the charge and stand-by modes of the system. Overall, this PowerUrus jump starter is a well-designed system with plenty of potential for motorists in need.
Find more reviews about the PowerUrus IP66 Jump Starter on Amazon here.