This post may contain Amazon® product affiliate links. We may receive a commision if you make a purchase after clicking on one of these links but at no cost to you. Please visit Our Privacy & Disclaimer Page for more information. Thank you.
A Guide To Choosing Between Top Rated Car Battery Chargers
A car battery charger is a useful tool to own. There will be times where we struggle to kick start our cars first thing in the morning, or end up stuck at the side of the road. A reliable, power car charging unit can get us back on the road in no time.
[table id=2 /]
The best offer a simple process with enough power and helpful features to suit all users. Whether you have a fleet of trucks, a small family car or a boat, there is a model out there for everyone. The choice all comes down to personal needs and preferences.
Check Out The Top Rated Car Battery Chargers
Things to look out for when choosing between these top rated car battery chargers.
The most important element here has to be the power that goes into the device and the charging cable. Different devices offers different amperage depending on the situation. Some are low and basic for personal needs. Others are high and powerful for fleet operations.
It is important to check the charging capabilities in regard to the types of batteries it can charge, the different charging functions and the strength of the hardware. Some are best used on small car engines, while others are fine for much larger batteries on boats and trucks.
From there, there are other varying elements and selling points that make one device stand out from another. Some brands look at how to make these powerful auto chargers as small and portable as possible. Others focus on the safety features and related functions to ensure the best possible experience for newcomers.
Then there are other elements like the quality of the display and the inclusion of lights, indicators and other helpful details. Most of the following are purely for starting car batteries, although some do offer other functions.
1.  NOCO Genius G26000:
This NOCO model stands out to those that are unsure about these machines thanks to the promose of "ultrasafe" tech. This device uses spark-proof technology, reverse polarity checks and overcharge protection.
In addition to this, there are some great tools to help users monitor the device and charge via the smart on-board microcomputer. It monitors the battery's health and is also able to help repair any batteries that are discharged and sulfated. This just adds to the peace of mind for users.
The other selling point with this 26amp device is the ability to charge a wide range of vehicles. It should offer 30 amp hours for charging up car batteries, marine batteries, lawnmowers, ATVs and more.
It is therefore a pretty powerful and diverse system, but it is also compact and lightweight. It also has a water-resistant case, LED indicators and X-connect battery clamps to add to the overall appeal.
2. Battery Tender Plus 021-0128: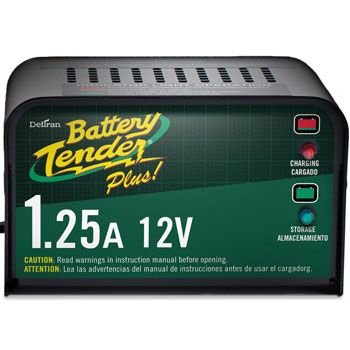 The sales pitches for this Battery Tender 12V battery charger make a point of highlighting the protective elements. It is designed charge and maintain a car battery, at proper storage voltage, without any risk of trickle charging. This should allow for some longevity to the battery.
This is an ugly looking device, but intelligent. The idea here is that it knows when to switch between charging and maintenance modes. It doesn't require much human intervention and doesn't damage the car battery. The design is also a throwback to the company's roots.
They are keen to point out their longevity, both as a brand and a product. The build and graphics are retro, but the tech is up to date and impressive. It offers temperature compensation, protection against sparks and reverse polarity. This is also the more powerful senior to the smaller junior.
Related content:
3. BLACK+DECKER BC25BD:
Black+Decker is a brand with a good reputation when it comes to power tools and other devices – what about power when starting a car battery?
The main focus in their specification is for the patented alternator check. This suggests a unqiue, feature, although other models in this list of top rated car battery chargers suggest otherwise.
This is the top selling point in the specification in terms of interesting features. However, many will be drawn to this device because of the look. Compared to the Battery Tender model above, this has an interesting design and the bright orange LCD screen is especially appealing.
This display shows the status of the charge and battery, and promises to be user-friendly. This 25 amp model has a potential on a range of batteries from cars to boats. The 75amp engine start should help to speed up the process, with a promise of around 90 seconds to start up.
4. DEWALT DXAEC80: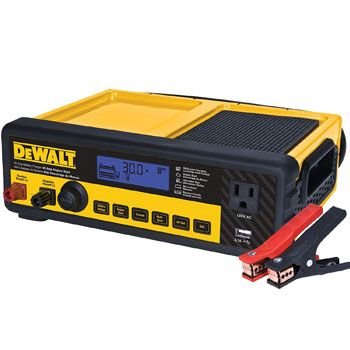 These lists of top rated car battery chargers wouldn't be complete without something from Dewalt. This company is one of the most recognisable in this area – as much for their striking black and yellow designs as their brand recognition.
This DEWALT DXAEC80 30 Amp Bench Battery Charger is a pretty simple car battery starter – compared to some of their more multi-functional devices. this covers most of the basic needs of the average car owner.
It all starts with the power through those heavy duty cables, strong clamps, and strong 30amp output. This output, plus the 80 amp engine start, means that this is a tough device.
The unique selling point here has to be the dual battery capability. It is possible to charge two batteries at once with this DEWALT battery charger . The only downside here is that user do have to buy additional cables to do so. Others will also appreciate the protection from reverse polarity and other safety features.
Related content:
5. MiniMax Portable Charger: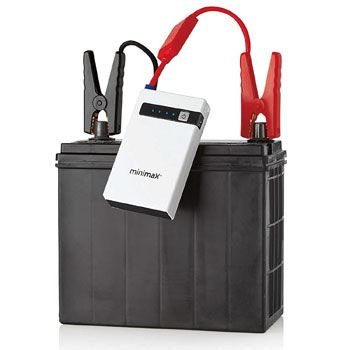 This is where we break the mould for a moment with these car battery chargers. This model is a multi-purpose compact charger – not simply a car battery charger. It has a 7,800mAh lithium-cobalt battery with 400 crank amps and a 5v 2A USB output. This allows for charging portable electronics too. Then there is the 3-mode LED safety light to help with these processes.
This is a tiny little thing that it slim and portable with a minimalist look, despite all the functions. It is said to be small enough for a purse, not just a glove box. There there is therefore the sense that the brand are targeting users of different demographics and experience levels.
This isn't sold as the tough car maintenance device, but more as a power pack for all occasions. Still, it is said be tough enough for V8 trucks, boats and more.
6. Schumacher SE-4022: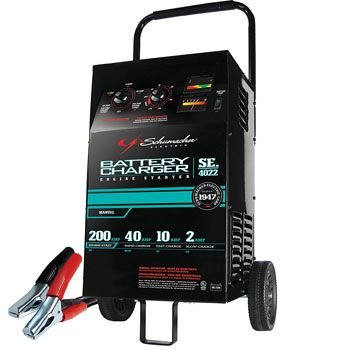 The firs thing that stands out with this top rated cam battery charger isn't the size – even though it is exceptionally large compared to the tiny portable model above. Instead, the eyes are drawn to the fact that this has a frame with wheels.
Wheels mean that there is portability is a different way. Users, most likely more professional users, can wheel this Schumacher car battery charger up to the car and connect the clamps. This should prevent any injury, as users don't have to lift it up, and it could speed up the process.
In fact, the makers recommend this for use in fleet operations. This large model comes with different modes with 2, 10,40 and 200 amp options. This means that there is a highly powerful option for extreme circumstances, and this is where the additional air vent really helps. It also has protection against overloads, a series of helpful meters a voltmeter and a cooling fan.
7. STANLEY BC25BS:
On first impressions, this Stanley model looks a like like the black and decker one above. The shape is very similar, with the same orange display in the centre, but the colours and branding are different. It doesn't have the immediate draw in terms of the contrasting colours and brand name. But this could be just as helpful.
There are also plenty of similarities in the specification. Again, this is a 25 amp machine with a more powerful 75amp engine start. There is a lot of potential in the charging capabilities. This is a three state charging device, with fast charge, top-off and trickle charge modes.
It is also able to handle different batteries from automotive to marine applications. When we add in the extras, this doesn't seem like a lesser model at all. There are also lots of safety features, including the alternator check and reverse polarity protection.
8. Schumacher SE-5212A: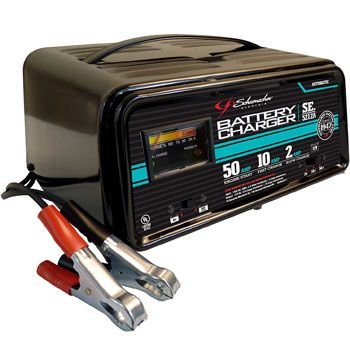 Sticking with Schumacher for a moment, we have another machine that looks like quite the beast compared to some of the models here. Again there is a choice of amperages here within this one model, with 2, 10 and 50 amp modes. It is therefore not as powerful as the toughest of the SE-4022 line.
It is also much smaller, with no need for the frame and transport wheels of the model above. There is a handle on the top, but this steel casing means this is more of a heavy-gauge model than a portable one.
9. Suaoki Car Battery Charger: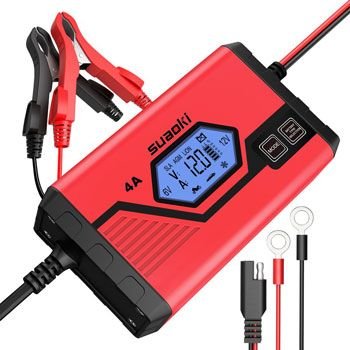 Continuing with this theme of small, multi-functional device, we have this little black and red model from Suaoki. These sense of multi-functionality comes through in two different ways. First of all, there is the fact that this model is designed to handle pretty much anything from motorcycles to trucks.
It does so with a 24.7 constant voltage charge and both battery clamps and eyelet terminal connectors. Then we add in the ability can repair damaged batteries, which increases the potential for motorists even further.
This all comes in a small but tough device. This is portable, but able to handle the elements. It has a waterproof casing and temperature protection, which also allows for "snow modes" in really cold times. Users will also appreciate the safety features in the reverse polarity protection and the clever 8-stage charging process. This is more to this model than meets the eye.
Those that aren't looking for a glovebox-friendly device will love the power and potential here. The Suaoki Car Battery Charger offers fast charging in 3 to 5 hours, with an LED indicator to track the progress.
The lowest amp mode is great for a trickle charge while the 50 amp setting takes the machine into emergency mode. This means that this is a more diverse machine in the middle of the pack – and will therefore surprise many people.
10 CTEK MXS 5.0 Battery Charger:
The last model in this list of top rated car battery chargers in another one that tries to tick all the right boxes. There is definitely plenty of power in this machine, with the potential to charge batteries and recondition them. It promises to extend the life of batteries by three. At the same time, the device is small and easy to use. This comes from the simple connections and displays.
Users will also note that this model comes from Sweden. This is an unusual place of origin, but one that makes a bit of a difference. The cold temperatures in Scandinavia mean that car maintenance tech has to be a little more hardy. This is specially designed to handle the cold with minimal risk. Other safety features include the protection against sparks and reverse polarity.
Choosing the right model out of these top rated car battery chargers.
This guide shows the breadth in designs and functions between these top chargers for car batteries. On one side there are those where small devices and helpful features are more of a priority. They don't always have the amperage and power of other machines, but they are easy to use and understandable. This is important for those that just want basic help in emergencies.
Then there are those on the other side of the coin that have impressive amp levels and functions for more commercial practices. These models are bigger, tougher and impressive in the right situation. Between the two, there are also plenty of other devices with great features. The safety elements, charging docks, indicators and other elements are all important.
Take your time to compare the specifications and sales photos carefully. Don't be put off by an unattractive box if the features and power are ideal for your needs. Also, don't focus in too much on the numbers and details and forget to look at the size of the device.
You need to be able to handle this machine when needed. The best models are those that tick all the right boxes. With research and comparisons, you will find it.