This post may contain Amazon® product affiliate links. We may receive a commision if you make a purchase after clicking on one of these links but at no cost to you. Please visit Our Privacy & Disclaimer Page for more information. Thank you.
Is The MiniMax 29916 Portable Charger Too Focused On Mobile Devices?
Lightweight portable jump starters are always popular with motorists, but the MiniMax 29916 Portable Charger may have taken things to another extreme.
This tiny little charging unit is small and simple, and looks nothing like a jump starter.
The MiniMax 29916 Portable Charger is sold to be the idea solution for motorists that want to charge absolutely anything and everything on the road. This means the car battery when it dies, as well as personal electronics on the way home from work.
Check Current Price and Availability on Amazon
There are two sides to this tiny little device. The electronics charger and the car charger. Are they both up to the standard that buyers have come to expect?
Users simply attach the cables they need for the job at hand – either the USB for electronics or jumper cables for the car – and let it power up the battery. There are some "as seen on tv" style claims with this gadget. So, is it all a little overblown, or does it really work?
The Pros and Cons with this MiniMax Charger :
Pros:
a powerful battery that works well on small cars and electronics
the small compact size,  a nice portable design
the reliability of the battery for electronic devices
plenty of extra features with the LEDs
Cons:
not all users receive the performance they had hoped for
not so great for vehicles
not as reliable for emergency assistance
an inability to handle more than one task at once.
MiniMax Review:
There are some nice features to this MiniMax 29916 portable car battery charger that allow for a reliable job.
Starting with that jump starter element, the sale pitch claims that it can deliver 400 crank amps to all kinds of vehicles via the two jumper cables and 7,800mAh lithium cobalt battery. They say that this even means boats, but this is questionable.
The small size means that users can prop it up on the engine and work with no problem, then store the device in the glove compartment. The LED strobe light is also a nice warning to other motorists.
As for the ability to charge electronic devices, this should work well on most smartphones and laptops. Most people are impressed with the power offered and the long life. Another nice addition here is the status indicator for the amount of power left in the charger.
When it runs low, owners simply recharge it via a USB wall charger. The downside here is that this USB is not included in the box for some reason.
Many users will love the power of this MiniMax charger for charging electronics in the car.
This may be a tiny little device, but there is a powerful battery inside. This system boasts a 7,800mAh Lithium-Cobalt battery, with the promise of 400 crank amps.
Users can take advantage of this via the 5V USB output and jumper cables. There are some great reports about the ability to charge electronic devices with speed and ease.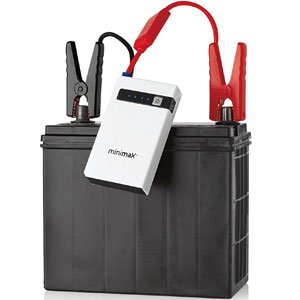 It seems to be pretty reliable on this front, but not so much with the car charging. That compact size cannot be overlooked, this measures 7.8 x 7.5 x 7.8 inches and weighs just 1.1 pounds.
This means that it sits nicely on the front seat as it speedily charges an iPhone, but also fits in the glove compartment when not in use.
Then there are the additional features designed to improve the overall experience. This Mini Max charger has a LED indicator that tells users when to recharge, as well as an LED safety light with an SOS strobe effect.
This is helpful for all those that are new to this sort of device. In fact, there are many buyers purchasing this for children to keep in their first car.
The problem is that this MiniMax 29916 Portable Charger isn't quite so reliable for the car itself.
The feedback from users suggest that this is much more of a portable electronics charger than a car battery jump starter. There are some users that have started cars and motorbikes with relative ease. But, others say that it isn't that reliable.
Larger vehicles would definitely struggle with this system. This is partly down to the connection of the cables to the unit. It isn't the rugged device many would like. This inconsistency limits the device's use as an emergency system.
A few adjustment could help the performance of this MiniMax 29916 Portable Charger.
This issue with the wall charger is not the only drawback to this device. For the most part, users are impressed with the performance when jump starting cars and charging their phones. But, it does struggle a little when asked to charge two devices at once.
Then there is the face that the majority of the positive comments come from those starting the family car in typical conditions. Some doubt its ability to handle bigger vehicles and boats, especially those that failed to restart their own cars. This isn't flawless, but it isn't as useless as some would claim either.
Is this MiniMax 29916 Portable Car/Electronics Charger still recommendable with these issues in mind?
In the end, it seems as though this is a device on the opposite end of many modern charging devices. Usually we find a car jump starter with an electronics charger as the secondary application.
Here it is the other way around. Therefore, this should work great for all those that focus on charging tablets and phones on the passenger seat. The MiniMax charger is not so great for those looking for multifunctional roadside assistance.
While there is room for improvement with this model – notably the inability to multitask – there are still plenty of happy consumers that would quickly recommend this. They love the power and convenience that comes from the long lasting battery and small, portable shape.
The bottom line for many is that they feel much safer with this in the car. They know that if they break down with a dead battery and dead phone, the MiniMax jump starter/charger can help them out.
Find more reviews about the MiniMax 29916 Portable Charger on Amazon here.