This post may contain Amazon® product affiliate links. We may receive a commision if you make a purchase after clicking on one of these links but at no cost to you. Please visit Our Privacy & Disclaimer Page for more information. Thank you.
Car Battery Jump Starter Questions & Answers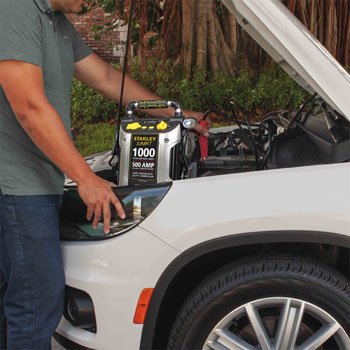 Jump starters are an important piece of kit for any motorists. Ideally, we will rarely ever have to use them. But, it is reassuring to know that we have a capable device that can get us out of trouble. The problem is that many motorists have limited knowledge about the functions and abilities of many jump starters.
It doesn't help that the market is broader than ever with new types of devices and interesting sales promises. The following Car Battery Jump Starter FAQs should help you answer some of the most pressing questions about these machines to increase your understanding.
Will this car jump starter be powerful enough to start my battery?
This is a common concern with motorists. They want the most powerful option possible to ensure that it starts their car with ease. The abilities of a car jump box will depend on the battery included, as well as the peak cranking amps. The higher the figure here, the better the chance that it will handle the battery.
Remember that a gentle, portable device might not have the intensity for larger vehicles. Ask yourself the following: how many cylinders does the vehicle have? A small 4 cylinder family car won't be too much trouble for most jump starters. Big commercial vehicles, trucks and boats require something tougher. Never assume that an "RV friendly" model lives up to its claim. Check the specification.
Why do some jump starters fail to charge completely dead batteries?
There are always users that find that the jump starter fails to meet their needs. This is usually when they try and start a completely dead battery with the wrong device. Success here is all about the cold cranking amps within the battery booster. Ideally, you want a jump starter with 500 cold cranking amps or more to start an entirely dead battery. Never expect a device to spark life in a car the first time around.
Can I charge lots of vehicles on one charge of this battery jump starter?
Again, this all depend on the specification of the device. Some machines will handle this with ease. Others will struggle. A powerful 12V lithium ion battery with a large capacity is a good start for a reliable device. However, it also needs to hold its charge for long periods.
Some people may use this multiple times a day in professional circumstances. Others will use it one a month and hope that there is still power. Some of the best options will include battery life indicators to help users keep track of the battery life.
How do multi-functional charging devices work compared to normal jump starters?
This is an important part of modern Car Battery Jump Starter FAQs. Lots of people now turn to multi-functional charging devices and battery packs rather than "typical" jump starters. These devices offer a different approach with a combination of charging solutions.
They may look unusual to newcomers, but the basic jump starting process is just the same. Attach the clamps in the correct port, attach to the car battery and use the charger to jump start the vehicle. The main difference is the use of additional ports for charging electronic items, like tablets and phones.
Are there any other benefits to choosing a batter pack/power source rather than a normal jump starter?
It is definitely true that you can do a lot more with one of these power sources than a normal jump starter in terms of charging. Some will have multiple outlets for other devices. They also carry a lot of interesting, helpful features such as LED indicators, displays, flashlights and sometimes even air compressors.
They is also the massive bonus here that these devices are much smaller than the average jump starter. They are easier to carry, easier to balance in difficult places and easier to store. This means they are great for glove boxes and back seats.
How can I be sure that this battery jump box is safe to use?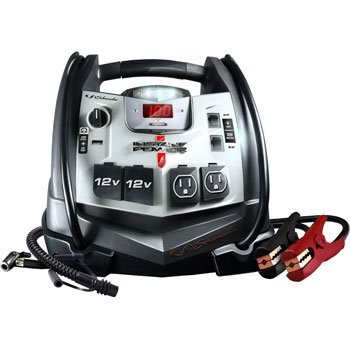 Safety is an understandable concern for anyone buying one of these jump starters – whether a more typical model or a power pack. The best will have all the right safety precautions built in for a secure experience. This means overload protections, surge protections and reverse polarity protection.
Not only will this protect the car, device and any other electronics, it protects the user too. Some simply won't work if the clamps are incorrectly attached.
On the subject of the clamps, make sure to look for strong, heavy duty clamps for the best protection. Read user reviews to learn more about the safety rating of products.
I'm buying this for a child with no experience in roadside maintenance. What should I get?
This is a common situation. Parents want to know that young, new drivers are protected with secure, reliable devices. What about the worst case scenario where it is night time and kids are stuck in the middle of nowhere in cold temperatures?
This is where is pays to look for a range of features. There are the safety elements mentioned above, but also that idea of appropriate power for the right vehicle. Additional features like the easy-to-use displays, strobing flashlight and light weight will also appeal to younger users. As for the temperature, some are better at handling the cold than others. Again, it helps to double check the specifications and user reviews.
What have we learned from these Car Battery Jump Starter FAQs?
It is important that all car owners understand the capabilities and limitations of the jump starter that they buy. It needs to be powerful enough to charge the right vehicles with ease. This means that we can't place too high an expectation on weaker devices.
If you want to be covered in all situations, it helps to have a powerful device that can handle the worst possible scenarios. This means powerful, multi-functional charging, lights, secure clamps and safety features. Take the time to match the product to the vehicle, check out the dimensions and specs, and understand its true potential. The more you know, the better prepared you will be out on the road.