Do The Extra Features Of The Dual-Purpose STANLEY J5C09 1000-amp Peak Jump Starter with Compressor Make It Twice As Appealing?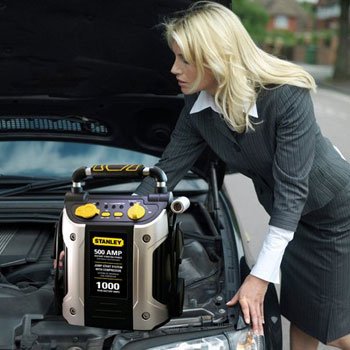 In all honesty, there isn't much that a jump starter needs to do to impress consumers besides hold a charge, connect to a battery and restart it effectively.
But that hasn't stopped the STANLEY J5C09 Jump Starter from adding a few bells and whistle and making it a dual-purpose device with the 120 PSI air compressor as well.
This Stanley car jumper has the standard, basic features, like 1000 peak battery amps, a charge indicator and heavy duty metal clamps.
It also offers USB and DC ports, a rotating, high-powered LED light and a reverse polarity alarm. Have all these extras paid off or are they of little worth in an emergency?
Check Current Price and Availability on Amazon
What benefits do buyers mention in their reviews for the Stanley J5C09 1000-amp Jump Starter?
Browsing through the positive reviews for this Stanley product, there is a sense that many buyers are happy to rely on this jump starter to start their dead batteries, even if some are a little reserved about its own ability to charge.
Some claim that they can easily charge this Stanley J5C09 Jump Starter up and it is ready to go quite quickly but others are a little uncertain if it is working or not because of the blinking green light and question whether they should really be topping it up every month.
Either way, there are plenty of reports of it being used successfully on dead batteries when it is fully charged and it has reportedly restarted vehicles as large as tractors and trucks.
The ability to hold a charge and its efficiency for jump starting dead vehicles are the two most important aspects to a reliable battery jumper but there are other features on this model that have been highlight for their benefit or simply their unusual nature.
The solid build gives users more confidence is the products durability, the compact size makes it more portable and buyers have noted some of the nice little touches like the LED light and the USB ports. It is elements like this that add to the idea that this speedy device offers value for money but there are some flaws to the specification that make some users question this sentiment.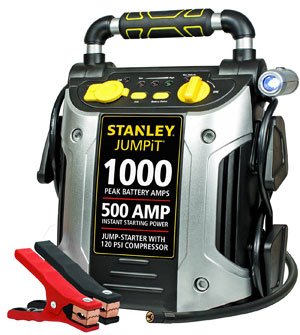 What are these product flaws are how do they effect opinion on this Stanley J5C09 Portable Jump Starter?
What is interesting about this Stanley car battery jump starter is that while there is a fair proportion of people praising some of the little, additional features and their quality.
There are also many criticisms about desirable features that are missing and the quality of some of the more necessary items.
The most glaring omission that buyers have pointed out is the lack of power cord; some say that this is not that big of a deal because they can easily hook it up to an extension cord to get the job done.
But it begs the question why the designers felt the need to do it. Another suggestion from the reviews is that there should be some sort of storage compartment for extra parts.
Opinion on the worth and extent of the specification is definitely split but there is one other feature to this device that has not yet been mentioned and it responsible for many lost stars in user ratings. That is the air compressor that is designed for blowing up tyres.
Granted, this is a secondary feature in comparison to the portable jump starter; however, it is still the unique selling point that supposedly gives this device its dual-function.
The fact that it is temperamental, slow to work. When it does work user might find it is so poorly constructed that the nozzle has snapped off for many users means that it may as well not be there at all.
Summary: does this questionable specification mean this Stanley 1000 Peak Amp Jump Starter with Compressor is worthless?
Understandably, some prospective buyers will be turned off by the inconveniences, like the lack of a power cord and the air of uncertainty over the products abilities, but there are still plenty of positive notes and it is easy to ignore the issue with the air hose can if you only want this for its basic jump starting capabilities.
Unless you are looking for something 100% convenient, reliable and faultless, this Stanley jump starter could still be a great purchase because underneath the odd specification it is a great value device capable of quick jump starts.
Find more reviews about the STANLEY J5C09 Jump Starter on Amazon here.