This post may contain Amazon® product affiliate links. We may receive a commision if you make a purchase after clicking on one of these links but at no cost to you. Please visit Our Privacy & Disclaimer Page for more information. Thank you.
Is The Stanley PPRH7DS Professional Power Station with 1400 Peak Amp Jump Starter As Powerful And Helpful As Claimed? 
The Stanley PPRH7DS Professional Power Station with 1400 Peak Amp Jump Starter looks like a powerful model and has a specification to match.
It claims to be able to provide 700 instant starting amps and 1400 peak amps with plenty of helpful tools for a fast, reliable experience.
The aim here to offer the best approach for charging batteries and inflating tyres for roadside assistance, camping and tailgating.
There are sure to be high hopes for this machine due to the power, features and purposes promised. Is it able to meet user expectations?
Check Current Price and Availability on Amazon
How beneficial has this Stanley PPRH7DS been for users in these important situations?
The main purpose here is to provide plenty of power for jump starting vehicles. However, there are plenty of features on board to ensure that it is safe for cars and personal electronics. It has 2 AC, 1 12-volt and a series of USB power outlets for versatility.
There is also the benefit of the reverse polarity alarm for incorrect connections and the tough powder coated clamps. There are many that find this to be pretty easy to use. It works well on cars, small electronics like phones and larger items like fans.
While this main aim is clearly proving to be beneficial for many users, there are other elements to this system that can be of help to users in roadside assistance. This Stanley jump starter comes with a 120 PSI digital compressor with a heavy-duty SureFit nozzle.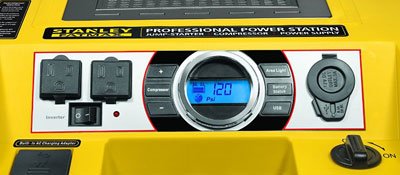 There is also an alert that sounds when the ideal pressure has been achieved, which is a nice feature for safety and efficiency.
Are there any clear issues with this Stanley PPRH7DS Jump Starter that buyers need to know about?
There are a few too many reports from buyers of units not being able to hold their charge for very long. This isn't seen with everyone, but it does suggest that there are users that are receiving faulty merchandise.
Once charged up, the unit appears to run down gradually until it is time to charge it back up again. This is a problem for those that aim to keep it in the car for emergencies or to take it out on camping trips. Some are concerned that it may not have as much charge as expected when the time comes to use it, or that it wont last the trip.
On the subject of charging it up, there are some that would have liked to have seen a better charging cord. It requires a standard electrical extension cord.
Summary: does this issue with the depleting charge mean that this Stanley Power Station is not recommendable?
It is easy to see why some people may decide against this model. The issues with the charge and life expectancy are a bit of a gamble for those that need a reliable machine. On the other hand, there is the fact that the unit has performed well for many other people.
This Stanley jump starter has the potential to be a reliable charger for car batteries and phones, while providing other great help via the compressor and alerts. It could be worth the risk for those that really need it.
Find more reviews about the STANLEY FATMAX PPRH7DS Power Station on Amazon here.