This post may contain Amazon® product affiliate links. We may receive a commision if you make a purchase after clicking on one of these links but at no cost to you. Please visit Our Privacy & Disclaimer Page for more information. Thank you.
Is The ATD Tools 5928 Jump Starter Strong Enough To Be Consistently Reliable?
This product is no longer available. You can find similar items here.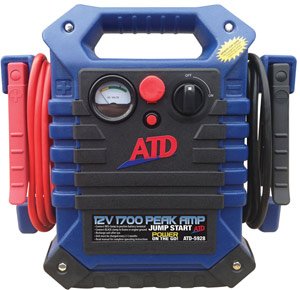 A tough, reliable jump starter is a must for many professionals that rely on their cars, trucks and other machinery and the ATD Tools 5928 12V 1700 Peak Amp 'ATD Power On The Go' Professional Jump Starter looks like the sort of model to handle it all.
This car battery jumper is said to be a heavy duty model that can deal with many situations, with its AC/DC power cord and other user-friendly features, and it promises durability and user safety with the on-off switch and the impact resistant base. Does this product offer everything that users might require or could it do more to help?