This post may contain Amazon® product affiliate links. We may receive a commision if you make a purchase after clicking on one of these links but at no cost to you. Please visit Our Privacy & Disclaimer Page for more information. Thank you.
Is The ATD Tools 5928 Jump Starter Strong Enough To Be Consistently Reliable?
This product is no longer available. You can find similar items here.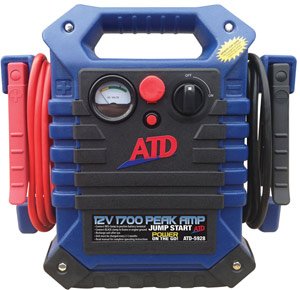 A tough, reliable jump starter is a must for many professionals that rely on their cars, trucks and other machinery and the ATD Tools 5928 12V 1700 Peak Amp 'ATD Power On The Go' Professional Jump Starter looks like the sort of model to handle it all.
This car battery jumper is said to be a heavy duty model that can deal with many situations, with its AC/DC power cord and other user-friendly features, and it promises durability and user safety with the on-off switch and the impact resistant base. Does this product offer everything that users might require or could it do more to help?
What benefits have buyers appreciated with this ATD Jump Starter when testing it out on the road?
The specification for this jump starter suggests that it is a product that can be relied upon in a number of conditions, which is a must for most users. There is emphasis on the the 4 gauge PVC coated cable and the way they hold their flexibility in the cold – making them ideal for winter call-outs in the snow – as well as the built in work light for night time emergencies.
The reports from users seem to show that there is indeed a sense of reliability to this model and truckers happily ride with it for emergencies on cold, night-time treks.
Of course these great abilities are not such a benefit without plenty of power behind the unit and this ATD Tools 5928 12V 1700 Peak Amp Professional Jump Start offers 1,700 peak amp power through the 22Ah battery.
The unit seems to hold its charge pretty well and has been able to handle a range of jobs before buyers need to charge it up again, although it helps that these jump starts have been pretty quick and efficient. Cars and tractors have been handled with ease and it helps that the cables have a decent length to them.
Does this ATD Tools 5928 Jump Starter have any drawbacks to its design or operation that limit its appeal to buyers?
With all this power and the strong case, it may not come as a surprise that there is some weight to this product and it is a bit too heavy for some buyers' liking. This can be a little restrictive when using the unit on some vehicles but that is where those long cables help.
Another restriction comes from the tough, bulky clamps that do not always connect to the battery in a simple, neat way. There are also some buyers docking a star for a lack of features, which is interesting; there are few bells and whistles with this machine so appeal may depend on whether you want the basics done well or something more comprehensive.
Summary: is this ATD Tools 5928 still a worthwhile purchase with these potential limitations in mind?
There are happy buyers saying that this machine will start pretty much anything and this alone would make it a must-have model for buyers with plenty of vehicles and heavy machinery to keep on the road.
However, there are plenty more advantageous features that make this model so desirable and it is the ability to continue with these quick starts in all conditions that makes it so recommendable. The ATD car jump starter is tough and capable and it is worth putting up with the weight and other design issues for the capabilities offered.