Is The Schumacher SE-4022 Battery Jumper/Charger Able To Deliver On All Its Promises?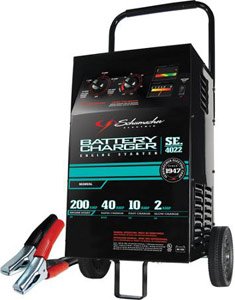 2-in-1 products are always appealing to motorists and truck drivers looking for convenience and the Schumacher SE-4022 Battery Jumper/Charger claims to offer just that. The purpose of this product can be split into two key roles – charger and tester.
The charging unit offer buyers pretty much what they would hope for with the ability to charge 6v and 12 v batteries via the cables and clamps.
Click Here to See Current Price on Amazon on Amazon
The testing unit, meanwhile, gives users more abilities and gives the product greater potential in a professional environment as it can analyse problems with the electrics and starting systems. Are both functions as helpful as buyers hope?
How advantageous has this Schumacher SE-4022 been for buyers?
There are a lot of promises regarding the efficiency of this charging unit and one of the more interesting ones is the 40-amp fast charge mode that can apparently charge a dead battery in up to 3 hours.
There are buyers stating that the charger did indeed power up their batteries in less time than anticipated and many are able to rely upon it multiple times a week to deliver the performance they need.
This emphasises the idea in the specification that this Schumacher SE-4022 Manual Wheeled Battery Charger and Tester is well suited to larger operations than an emergency charging system for a single vehicle.
Despite the size of this product and the different parts that are included for this more professional experience, there are also buyers talking about the ease of use and the fairly simple assembly. Users do need to make sure that they read all the instructions thoroughly and keep an eye on the manual charging but there are no difficult processes or settings to deal with.
Where do the problems lie with this Schumacher SE-4022 Battery Charger?
The performance of the battery charging unit is clearly living up to buyers' expectations but there is a problem that many reviewers are citing in their low-rated reviews – the testing unit seems to be little more than an average voltmeter.
There are also additional benefits being promised with this Schumacher car jump starter, such as the ability to offer long-term high performance via the cooling fan and the use of wheels for greater portability.
The problem here is that the energy efficiency from the fan is countered by the lack of an automatic shut-off when the battery is fully charged and some say that wheels could be better designed to handle grass and rougher roads.
Summary: does this negativity mean that this Schumacher Battery Charger and Tester is not recommendable for purchase?
There is a lot of disappointment surrounding this product, mostly because the idea of this being a high effective 2-in-1 product is ruined by the fact that the testing unit does not perform to anywhere near the same standard as the charging unit.
It seems that if Schumacher had called this a 'battery charger with voltmeter' then there wouldn't be so much criticism. There are clear areas for improvement with this model but if the company can add a charging shut-off and better wheels, the Schumacher charger/jumper could still be a brilliant battery charging unit in the future.
Find more customer reviews about the Schumacher SE-4022 2/10/40/200 Amp Manual Wheeled Battery Charger and Tester on Amazon here.