This post may contain Amazon® product affiliate links. We may receive a commision if you make a purchase after clicking on one of these links but at no cost to you. Please visit Our Privacy & Disclaimer Page for more information. Thank you.
Is The NOCO Genius G26000 Battery Jump Starter As Smart And Beneficial As It Claims?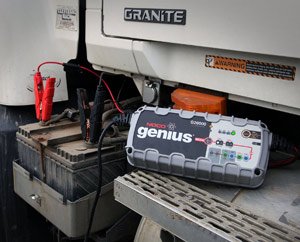 Any product with the word genius in the name automatically gives prospective buyers the impression of intelligence and clever features and that is precisely what the NOCO Genius G26000 12V/24V 26A Pro Series UltraSafe Smart Battery Charger aims to do.
This compact, portable 26amp charger promises "cutting edge" tech for a fast charge – which can be seen in the flashy LED-dominated control panel and the use of diagnostic information – as well as a convenient design, a good use of materials and plenty of safety features.
There is a lot going here to please users from every angle but does it live up to all of these promises?
>>Check Current Price and Availability on Amazon<<
What advantages does this apparently intelligent NOCO Jump Starter offer to car owners?
For many, the most important aspects to consider here are the speed and ease of charging up the battery as this needs to be simple to use and ideal in an emergency. This lightweight NOCO battery booster is labelled as a "plug and play" model by some buyers and can be easily carried around, powers up quickly and provides simple, reliable charges to car batteries.
In addition to this, it also has special modes for AGM batteries and cold weather that can be manually selected which increase the versatility and desirability of the product significantly, especially in areas where the winters get very cold and breakdowns become incredibly problematic.
There are also some nice extra details to the design and usability that lead to this "genius" name and ensure buyers agree that it is one of the smarter chargers they have bought, such as the battery status LED indicator and the warnings for bad batteries, wrong connections and other issues.
On top of this functionality, this is promoted as an "ultra safe" and secure piece of kit that buyers can use with peace of mind. It generally has a good quality construction, so there are no real concerns about the life of the product and it getting bashed about a bit.
The connectors are both fused, there are dust proof seals and alligator clips included. However, this is let down slightly by the flimsy feel of the clips and the fact that the product does not come with a secure, protective case.
This safety means that some buyers are more than happy to leave this NOCO Genius G26000 Battery Charger running unattended, such as overnight, in order to get the job done. As the negative comments show, this course of action may have to be carried out on certain battery types.
Why are buyers having to leave it running overnight and what other issues have been experienced with this NOCO Genius G26000 Smart Battery Charger?
There is the notion from buyers that this is a small charger for small batteries only and that if it has to tackle anything bigger than a car battery it will struggle and take a very long time. Also despite promising to charge fully drained lithium-ion batteries up to 500Ah, it cannot bring a completely dead battery back to life as there must be 7 volts left for it to work.
Another problem is that because there is so much going on with this kit and so many manual modes and indicators, there is a bit of a learning curve with this product that means it is not the straightforward charging unit that some may have expected. This means there are recommendations from users to read the instruction book carefully and learn as you go.
Summary: do these issues mean that the NOCO Genius G26000 is not a highly recommendable purchase?
There are definitely some limitations to this product in terms of the speed and some of the details that were lacking and there is the clear sense that this charger is aimed at a limited audience because of its inability to charge a dead battery, the way that it struggles on larger units and the amount of effort that goes into learning how to use it.
It is not the effortless plug and play model that some buyers have described but its speed and ability for charging regular car batteries on their last legs, and its performance out in the cold, means that it still has a lot to offer to the right user.
In the end, this NOCO mini jump starter is best recommended to those with little more than basic charging needs in mind who want something durable, portable and safe and that "genius" intelligence is really just a bonus.
You can check out more customer reviews about the NOCO Genius G26000 12V/24V 26A Pro Series UltraSafe Smart Battery Charger and Jump Starter on Amazon here.