This post may contain Amazon® product affiliate links. We may receive a commision if you make a purchase after clicking on one of these links but at no cost to you. Please visit Our Privacy & Disclaimer Page for more information. Thank you.
Is The Jump-N-Carry JNC770 Premium Jump Starter As Powerful And Reliable As Claimed?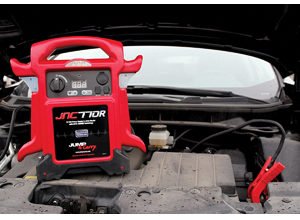 On first impressions, the Jump-N-Carry JNC770 Premium Jump Starter has a pretty decent specification. It uses Clore PROFORMER battery tech to provide 1700 peak amps of power through the heavy duty cables, 12v DC outlet and USB outlets.
It includes a built-in 3amp automatic charger, power jaw clamps and a digital feedback display. There is a surprising amount going here for such a simple looking device.
Click Here to See Current Price on Amazon
The makers say it is guaranteed to provide power and reliable starting in general and professional situations. Is it living up to its sales claims?
What benefits have users of this Jump-N-Carry JNC770 Jump Starter appreciated most after testing out the capabilities?
There are also some nice design features with this product. It is small enough to be stored away with ease, there is an off switch for energy conservation and many like the use of USB ports for charging other electronic items. Other important features of interest here are the light, reverse polarity check and voltmeter, which add to the functionality and appeal of this helpful aid.

This all leads to some great positive reviews about the performance. Not all buyers had high hopes of this model, but many now say that it is a worthy replacement for previous units.
It holds its charge well and is more powerful than many predicted. It starts up cars with ease, the voltmeter is accurate and the product appears to be easy to use.
Buyers have also used the USB port to charge their smartphone in pretty quick time. As for the light, this is usually a bonus gimmick with many car battery jump starters.
Here it is surprisingly bright and effective. A final benefit mentioned by some was that the unit came fully charged – making it quite a handy plug-n-play product.
What downsides have been mentioned in reviews for this Jump-N-Carry JNC770 Jump Starter?
At the time of writing this review, this Clore Automotive JNC battery jumper had mostly received great comments from buyers. Most are clearly impressed with the design and performance. Having said that, there are also some small flaws mentioned by the minority.
One issues lies with the length of the 68″ #2 AWG welding cable leads, as some would like to see a little more flexibility and freedom of movement here. Another is the fact that there is no storage for the cables when not in use. A simple case would have worked wonders here to stop users worrying about lost and damaged parts.
Summary: is this Jump-N-Carry JNC770 battery booster recommendable with so few negative reviews to its name?
This product is quite a simple, straight-forward model, perhaps a little old-fashioned compared to some of the sleeker models that are available. However, the large number of positive reviews from users shows that this is a great option for meeting many different consumer needs.
That broad specification did live up to the claims. There are plenty of motorists putting this small system in their glove compartment, ready to rely upon it should they require it. The Jump-N-Carry jump starter is easy to use, functional and consistent and therefore highly recommendable.
Find more reviews about the Jump-N-Carry JNC770 Jump Starter on Amazon here.