This post may contain Amazon® product affiliate links. We may receive a commision if you make a purchase after clicking on one of these links but at no cost to you. Please visit Our Privacy & Disclaimer Page for more information. Thank you.
Clore Automotive JNC660 Jump Starter Delivers Power You Need
Whether you are a commercial car dealer and need a jump starter to charge up the cars on your lot or a private individual who needs a reliable jump start, you would be pleased the great functions provided by the Clore Automotive JNC660 jump starter.
This 1700 peak amp portable battery booster features an indicator gauge and comes with 46-inch #4 cables that are strong and durable.
Click Here to See Current Price on Amazon
The Clore Automotive Jump-N-Carry JNC660 Jump Starter is all about having the power to start what doesn't want to be started. This car jumper is tailored to support the goal of delivering as much starting power as possible to a disabled vehicle or machine, starting with its Clore PROFORMER battery.
The proprietary Clore PROFORMER batteries are designed for maximum power density and durability, which results in exceptional cranking power, extended cranking duration, and a long service life. This Clore Automatic car battery booster will be all you need to get that jump start.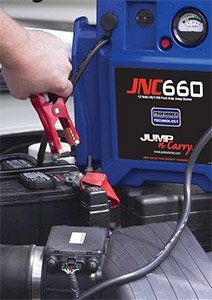 Clore Automotive JNC660 Battery Jump Starter Reviews
Online reviewers were impressed with the fact that the JNC jump starter did not require one to use a separate transformer and that they have a good guarantee which caters for any breakages.
It has a good battery and one of the reviewers notes that his took over two and a half months without being recharged.
One particular reviewer warns that the model should not be used by people who are not very familiar with the battery charging processes since the JNC660 Jump Starter does not give an alert or any type of direction in case someone fastens the cables in the wrong manner.
It also lacks a safety switch which would enable the power to be excluded from the cables in the process of hooking them up and this can be dangerous to a new user.
The Jump-N-Carry jump starter is very possible to overcharge the battery if you forget about it and therefore you need to keep checking it.
While storing it, care should be taken to prevent it from tipping over as one reviewer advices. A different customer reviewer found out that this portable jump starter does not handle wetness very well.
This device is powerful, has a long lasting battery and can do battery jumping from big trucks to small cars fairly easy.
Find more reviews about this Clore Automotive Jump-N-Carry JNC660 Jump Starter on Amazon here .