This post may contain Amazon® product affiliate links. We may receive a commision if you make a purchase after clicking on one of these links but at no cost to you. Please visit Our Privacy & Disclaimer Page for more information. Thank you.
Get Clore Booster PAC ES5000 Before you Start Driving on those Winter Roadways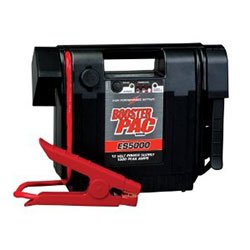 If you are seeking a jump starter or battery pack that is both dependable and simple to use, then stop your search with the Clore ES5000 Booster PAC 12V Portable Battery Booster.
This product is made with 1500 amps of peak power and comes with #4 gauge cables that are a little over three and a half feet long.
The Clore Automotive jump starter is perfect for anyone living in remote, northern locations where the snow, ice, and sharp chill breezes can adversely impact a vehicle's starting ability.
Click Here to See Current Price on Amazon
While a great many people do carry jumper cables with them in their trucks and cars, for added security, it is best to choose a jump starter, especially if you live farther out during the wintertime.
This product works by creating the charge needed to start a car. Plus, again, the Clore Booster PAC ES5000 battery jump starter is so much easier to use than carrying a set of jumper cables with you during the winter season. Not only can you get your car going without seeking the help of another driver, it can be done so quickly and effortlessly.
Waiting for someone to aid you in starting your car, if you only have a set of jumper cables, can, on some sub-zero below days, become quite frustrating, if not worrisome.
Therefore, don't take any chances. Make sure that you have all the proper equipment in tow so you can give your car a start if it needs it – begin by buying the Clore car battery jumper at your earliest convenience.

Clore Booster PAC ES5000 Jump Starter Reviews
Using this battery pack will keep your car running – helping you meet any emergencies or difficulties when driving in extreme or cold climates. One customer commented that he had used the product for ten years and it had always been dependable. Another consumer said that he could leave the Clore jump starter plugged in continually without the battery becoming overcharged.
In fact, he stated that, by using just one charge, he was able to provide power to seven vehicles. Plus, he used the Clore ES5000 Portable Battery Booster as a battery in one inoperable car so the driver could get home.
The customer commented that the battery was easy to transport and did not weigh a lot either. He said he could find nothing negative to say about the product.
Overall, Most Consumers were Happy about their Purchase
However, while some people could rave about the Booster PAC ES5000 battery pack—which almost everyone did—there were still some individuals who did not fare so well, or had a bad experience with the jump starter. In one situation, a customer, who bought the battery pack, complained that the battery cell ran down after he had the item for only a couple years.
While most individuals had nothing but good comments to say about the Booster PAC jump starter, there were a few remarks that were contrary to the general good sentiments conveyed about the product.
You can check more customer reviews about this Clore Automotive Booster PAC ES5000 1500 Peak Amp 12V Jump Starter on Amazon here.