This post may contain Amazon® product affiliate links. We may receive a commision if you make a purchase after clicking on one of these links but at no cost to you. Please visit Our Privacy & Disclaimer Page for more information. Thank you.
Is The Streamlined Truck PAC ES1224 Jump Starter Up To The Job?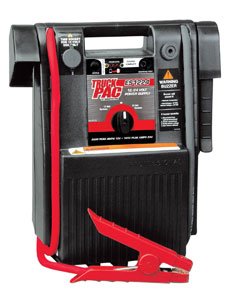 There are certain qualities that all vehicle owners are looking for when buying a jump starter – plenty of power to kickstart some heavy duty motors, a convenient design to make the job easier and a strong construction – and the Clore Automotive Truck PAC ES1224 3000/1500 Peak Amp 12/24V Jump Starter promises to provide all three.
This device is quite a small, streamlined model that promises 300 peak amps through a 12/24V operation, has strong #2 gauge cables and also boasts twin high-performance ES series batteries for automatic recharging. It sounds like this Clore Automotive product should do the job but does it perform to buyers expectations?
>>Click Here for Current Price at Amazon<<
How advantageous has this Truck PAC ES1224 #2 Gauge Jump Starter been when buyers really need it?
The main benefit that comes through in buyer feedback for this device is the reliability that is offered. Not only does the product have the convenience to be carried around between different job sites due to its small size.
It seems to be capable of restarting anything that it is put up against – cars, farm machinery and even trucks – due to the high amperage. In addition to this, it can do the job pretty quickly so there is no hanging around on cold nights waiting for this tiny device to work.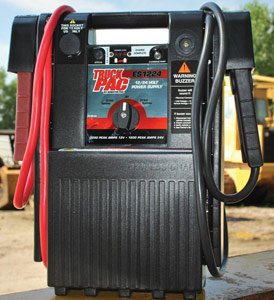 There are also some nice features to the pack that increase its appeal such as the Advanced Warning System for unsafe conditions, the long, 60" cables that add to its portability and versatility, and the on/off switch for saving power.
The latter may sound simplistic but its is strange how many products neglect to add this feature. It appears that this Truck PAC ES1224 Peak Amp Jump Starter has been designed with ease of use in mind, with simple controls and most users seem happy with their purchase.
Is it all positive with this Truck PAC ES1224 Jump Starting Unit or are there drawbacks to consider?
Unfortunately there are a few negative reviews of this product that have brought down its overall rating and one of the issues is with the quality of the clamps, which have been labelled as "industrial grade" in the specification.
Not everyone agrees here but there are some buyers saying that the materials are a bit too cheap and flimsy and have broken too easily. This means that the pack may not have the potential longevity that buyers had hoped for; however, there are still reviewers talking about durability and the product does have that impact-resistant case.
Summary: does this lack of negative feedback mean that the Truck PAC ES1224 12/24V Battery Starter is highly recommendable?
Reliability really is the most important word here because there is are a large number of buyers finding that they can rely upon this jump starter to sort out battery problems in a wide range of vehicles and situations – so much so that companies with larger fleets have bought additional ones to meet their needs.
The Truck PAC battery jumper may be a small portable device but it seems to pack a punch in terms of its amps and potential on large machinery and that is why is comes so highly recommended.
You can find more customer reviews about the Clore Automotive Truck PAC ES1224 3000/1500 Peak Amp 12/24V Jump Starter with AWS on Amazon here.