This post may contain Amazon® product affiliate links. We may receive a commision if you make a purchase after clicking on one of these links but at no cost to you. Please visit Our Privacy & Disclaimer Page for more information. Thank you.
Does The DEWALT DXAEJ14 Jump Starter Offer The Dual Function Buyers Hope For?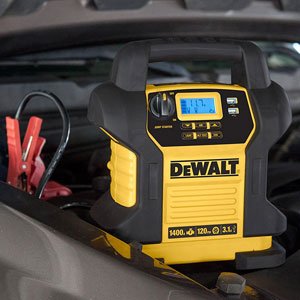 The DEWALT DXAEJ14 Jump Starter looks like a powerful, reliable model straight away. There is something about the bulk of the unit, the shape and that familiar DeWalt name that instantly suggests quality. The basic specification of this model suggests that there is enough here to back up these suspicions.
There are 1400 peak and 700 instant amps within this heavy-duty model, and this is coupled with the second function of the 120 psi digital air compressor. There are some cases where these dual purpose models don't quite live up to expectations, with units being too bulky or compromising on power or outputs. Is that the case here?
Click Here to See Current Price on Amazon
What benefits have users mentioned when reviewing this DEWALT DXAEJ14 Battery Jump Starter?
Let's start with the power and charging capacity of this machine. The basic function of this device is fairly simple. The heavy duty powder coated clamps carry energy to the vehicle for a pretty quick, powerful charge and the information is displayed on the bright LCD screen.
The vast majority of users are impressed with the way that this charges cars with ease. There is the addition of the two 3.1amp USB outlets to increase functionality. Many users are impressed with the ease of use here, as the controls are easy to understand.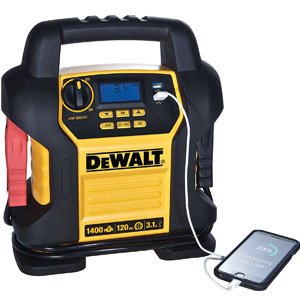 As for the air compressor, this feature comes with an auto stop, so as not to waste too much energy or over-inflate the tyres, and a "surefit nozzle". This is one of those rare occasions where the name meets expectations, as there is a tight, secure fit for a great process.
There is also the benefit that despite the larger size and dual function, this isn't all that heavy and users can still carry it around for roadside assistance without too much trouble.
Are there any clear issues with this DEWALT DXAEJ14 Car Battery Jump Starter that users need to know about?
The majority of users are impressed with the features and potential of this DEWALT battery jumper. There is a lot going here and there isn't much in the way of compromise on the build or performance. There are some users that warn new buyers to charge up the battery for a long time before use for the best result and long-term life on the unit.
This may not seem obvious when the pack comes with a little charge in it straight out the box. Then there are those that mark it down simply because they feel that it doesn't have the power, quality or convenience of other models that they have tried in the past.
Summary: does this lack of negativity mean that the DEWALT DXAEJ14 Air Compressor/Jump Starter is highly recommendable?
The combination of features and positive reviews here means that it is difficult not to recommend this device to others in need of a strong, dual function system. This is a rare model that is able to provide the strength needed in both the jump starter and compressor, with the added benefit of great accessories and decent portability.
There is nothing about this DEWALT jump starter that stands out that much, but there is a great all-round performance that many motorists will appreciate.
Find out more customer reviews about the DEWALT DXAEJ14 Jump Starter with 1400 Peak/700 Instant Amps and 120 PSI Digital Air Compressor on Amazon here.