This post may contain Amazon® product affiliate links. We may receive a commision if you make a purchase after clicking on one of these links but at no cost to you. Please visit Our Privacy & Disclaimer Page for more information. Thank you.
Can't Get your Car Started? Then Maybe You Need a Bit of an Assist from the JNCAIR Jump Starter!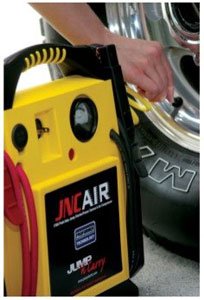 A Popular Choice Among Consumers – While you see the word jump starter defined by various terms—booster cables, battery boosters, booster boxes, or boosts—they can all vary in their ease of use and level of power and safety. That's why it's important to carefully scrutinize your choices when you are shopping for the boosters online.
One car jump starter that is a popular choice among consumers is the Jump-N-Carry JNCAIR 1700-Amp 12-Volt Jump Starter with Power Source and Air Compressor.
>>Click Here for Current Price at Amazon<<
Some of the Specs
Using Proformer battery technology, the Jump-N-Carry JNCAIR jump starter ensures starts in freezing and sub-zero temperatures or at those times your batter is lacking juice. Issuing 1700 peak amps, the jump starter also features an air compressor with a twelve-foot coiled hose and extra lengthy cables that extend to almost six feet.
A Reliable Starter
Sized at 9.6 x 16.5 x 17 inches, the battery booster weighs in at 24 pounds. If you're looking for a reliable jump starter then, the Jump-N-Carry jump box is product that you'll want to own, whether your battery is merely lacking electricity or your car refuses to start on a subzero winter day.
Getting Your Car Started is a Hassle-free Process
The starter features a case that ably resists the threat of impact and features cables and clamps that are of an industrial grade. Therefore, when you choose the JNCAIR jump starter, you are selecting a battery booster that is designed to start even the most stubborn vehicle on command. The clamps on the jump starter provide an electrical connection that guarantee a hassle-free start.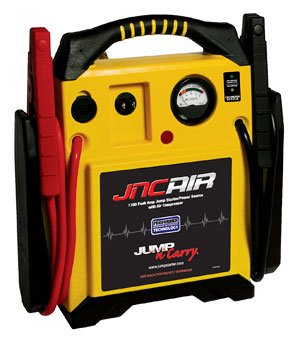 A Back-up Guarantee
What's more, recharging is facilitated with an AC charger, making it easy to keep your JNCAIR jump starter in tip-top operating shape. All you need to do is plug in an extension cord and wait until the system reaches full activation.
Included in the purchase is a service coupon that permits a one-time repair after the one-year expiration of the limited warranty. Nice to know you have a back-up guarantee.
Jump-N-Carry JNCAIR Jump Starter Reviews
Positive Remarks – 
Most of the reviewers who bought the Jump and Carry JNCAIR jump starter described the unit in one word, or as Great! The jump starter was a Great product, it worked Great, and was hailed as a Great item as well.
Highly Recommended!
One consumer, who purchased the starter without an air compressor, said her alternator caught fire so she had her car towed in for repair. She upgraded to a jump starter with a compressor after the mechanics who worked on her car stole the unit, or at least she believed they did.
In any event, she said she loved the new jump starter. She tried it on her disabled car and it came alive after the first crank. She said she highly recommended the product.
Very Happy with the Unit
Another customer said he was very happy with his unit, that the JNCAIR jump starter was well-built.
Some Negative Comments
The Compressor Did Not Provide Enough Pressure
However, not everyone felt as enthused by their purchase of the JNCAIR jump starter. One consumer did not like the compressor on his jump starter, stating he wanted to use the compressor on the tires for a horse trailer and it didn't provide enough pressure.
Not American Made
Another consumer said he returned his starter as he wanted an American made product. The JNCAIR jump starter was made in China instead.
In Summary – Most Everyone Liked the JNCAIR Jump Starter and Gave it High Marks
Overall, though, most customers liked their JNCAIR jump starter and couldn't be more pleased with their purchase. Of those consumers who felt contrary, no one really had anything negative to say about how the starter operated. The complaints that were issued centered on the air compressor on the unit and the starter's origin of manufacture.
You can find more customer reviews about this Jump-N-Carry JNCAIR 1700-Amp 12-Volt Jump Starter with Power Source and Air Compressor on Amazon here.