This post may contain Amazon® product affiliate links. We may receive a commision if you make a purchase after clicking on one of these links but at no cost to you. Please visit Our Privacy & Disclaimer Page for more information. Thank you.
Is The Besteker Portable Jump Starter Too Tiny And Clever To Actually Be Of Worth?
This product is no longer available. You can find similar items here.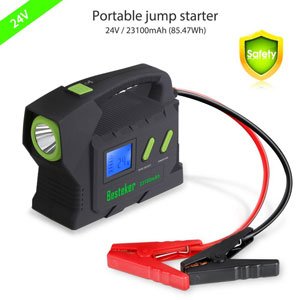 The Besteker Portable Jump Starter is a smart looking device that will immediately appeal to users that are after something modern, convenient and intelligent. This doesn't look like old-fashion jump starters.
Instead it is small, it has a nice LED display and it is even verges on being attractive. This device comes with the claim that it can jump start any 24v battery thanks to the 23100mAh Grade A electric cell battery. First impressions are clearly pretty good with this device, but how does it perform?
What benefits have users mentioned in their reviews for this Besteker 24v LED Car Jump Starter ?
This product is clearly designed to be a tough, capable model for all emergencies. The casing is made from a durable plastic to protect it from damage, there is a non-slip mat on the bottom and it has an LED flashlight for users that need to work in the dark.
The light is not the strongest in the world, but it is bright enough for the job and easy to operate. There is also praise for the additional case as it is the ideal protective home for the cables and other elements. It is a little snug but definitely secure.
There are also plenty of additional user-friendly features designed to appeal to modern users. The specification boasts about the "all-round protection". This means protection against overshooting, overheating, short circuiting leakages and more. Then there is the portable size and lightweight.
The dimensions are 7.48 x 3.54 x 5.91 inches and the weight is 2.87 pounds. It seems as though this device is idiot-proof. There are users of all kinds keeping this in their vehicles and getting themselves out of trouble.
Buyers have the confidence to use this product when they are in trouble because of these safety features and the indicators on the display.
Are there any downsides to this Besteker Portable Jump Starter that buyers need to be aware of?
At the time of writing, this product had an impressive satisfaction rating and the majority of the poorly rated reviews refer to faulty merchandise rather than design issues, such as those that would not power up on arrival.
There are those that suggest that this is not the most powerful option that they have tried. Some have struggled to get a high voltage and others say that it won't sustain a charge for long periods. It is pretty reliable when it comes to starting up the batteries, but it just doesn't have the stamina.
Summary: how does this effect the final verdict on this Besteker Jump Starter?
There are limitations with this product in terms of its power and stamina. However, there are many buyers that are impressed with the performance offered considering the size of the device. Buyers cannot overemphasise the compact nature of this product and there really is a lot going on for a small jump starter.
The Besteker battery jumper is reliable, quick and intelligent. Best of all, it adds to the overall experience by providing those extra features in the LED indicators, flashlight and casing.