This post may contain Amazon® product affiliate links. We may receive a commision if you make a purchase after clicking on one of these links but at no cost to you. Please visit Our Privacy & Disclaimer Page for more information. Thank you.
Is The Unusual-Looking Bolt Power G06 Portable Jump Starter Too Far Removed From Traditional Designs?
This product is no longer available. You can find similar items here.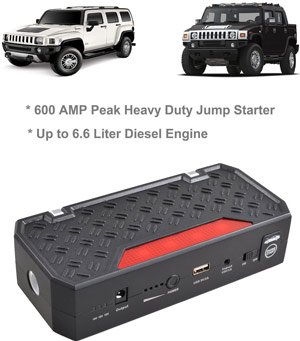 It is immediately clear from the specification that the Bolt Power G06 Portable 600 AMP Peak Car Battery Jump Starter Power Bank Charger is not your average jump starter.
Gone are the bulky cases, bright colours and eye-catching clamps and in their place is a rather modern, streamlined affair with some interesting alternative features, such as the LED emergency lighting and the compatibility with a range of smartphones and laptops.
This "unique" device apparently does it all as a "compact, slim, portable, heavy duty jump starter" but is it really able to fulfill all these needs?
What benefits have buyers appreciated when using this unusual Bolt Power G06 Compact Portable Jump Starter?
There is a clear sense from the feedback of this product exceeding expectations, as many consumers presumably thought little of the abilities of such a compact and seemingly simple device. It really does have the ability to wake the dead, with some vehicles that had been almost completely given up on being brought back to life, and seems more than capable when dealing with bigger beasts like SUVs.
This is likely due to the 600 Amp Peak and built-in 16,500 mAh power bank and the specification does in fact promise that users can charge pretty much everything from dirt bikes to trucks and boats.
Away from the initial purpose of starting cars, this Bolt Power G06 Portable 600 AMP Peak Car Battery Jump Starter also has the added convenience of charging electronics with great speed – meaning you can call home from the roadside if your phone happens to be dead too – and it is surprisingly rugged with its tough outer case.
Are there any disadvantages to using this Bolt Power G06 Jump Starter?
This model clearly goes against the norm in a few ways but another interesting example of this is in the wealth of positive reviews. Even the light, which could be a useless, additional gimmick, is said to very bright and helpful.
The worst issue to be mentioned on a fully-functioning example of this model is that it initially took a while to charge up, but even then it held its charge very well, was able to start a number of vehicles and did not need charging again for months.
Summary: does this distinct lack of flaws mean a definite recommendation for this Bolt Power G06 Heavy Duty Portable Jump Starter?
One final comment from user reviews to highlight is the idea of this product being a great example of "high end technology" as this is something you do not often hear in regard to jump starters and it provides the ideal basis for a recommendation.
This is a different approach to starting cars with a clearly modern and technological edge but it seems to really work and have some interesting features in comparison to some traditional jump starters.
Many prospective buyers will be sold on the Bolt Power jump starter's extras like the lighting and compatibility but the crucial thing to remember is that it provides these differences while still offering the simple power and performance needed and, by most accounts, seems to be pretty faultless.