This post may contain Amazon® product affiliate links. We may receive a commision if you make a purchase after clicking on one of these links but at no cost to you. Please visit Our Privacy & Disclaimer Page for more information. Thank you.
Is The CAT CJ3000 2000 Peak Amp Jump Starter Tough Enough For A Reliable Performance?
When it comes to getting machinery moving and building a reliable work rate, the name Caterpillar is one that immediately draws buyers in thanks to brand reputation. There are sure to be plenty of motorists that are interested in the CAT CJ3000 2000 Peak Amp Jump Starter.
This 2000 peak amp battery jumper looks exactly how you would expect – a thick, rugged looking casing in the trademark black and yellow with all the right dials, cables and clamps to get the job done.
Many of the parts appear to be there, but does this system have the performance to match?
Check Current Price and Availability on Amazon
What benefits have been highlighted in buyer testimonials for this Caterpillar CJ3000 car jumper?
This tough-looking device is pretty strong, with its 22ah, high density battery, and comes with the promise that it can "jump-start most 12-volt vehicles without the need for another vehicle".
This includes large vehicles like trucks and there are some great reports about a consistent performance on machinery, dump trucks and tractors.
The system is also designed to work well in cold weather and there are happy users out in the colder regions of America using this in a professional capacity. Some make sure to store it inside when it is not in use, but they have few concerns about is getting damaged.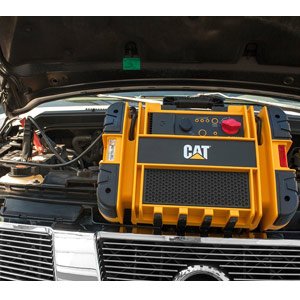 The specification for this product suggests that the appeal can also found within the details, not just the basic charging performance.
Among the features here are the keyless on/off safety switch, the LED light and the reverse polarity alarm that gives both a visual and audible warning.
Are there any drawbacks to this CAT CJ3000 Battery Jump Starter?
Some curious browsers have questioned whether or not this device can be used as a charger as well as a jump starter and the answer is no: this is just a simple jump starter. Because of this, it should be able to carry out its duties perfectly, but there are still a few downsides holding it back a little.
Firstly, the cables are a little short for some, which could be an issue on large vehicles in difficult circumstances. Secondly, there are some that say that the battery drains a little too quickly between uses.
This isn't a model that can be pulled out of storage once every few months, but some have got by with only giving it a full charge every few weeks.
Summary: does this all mean that this CAT 2000 peak amp Jump Starter is highly recommendable?
There will be some prospective buyers that are disappointed at the lack of functions with this jump starter, but it is important to remember that what little it does, it does pretty well. The battery is reliable, the starting process is consistent, there are great reports on different types of vehicles and there are some nice extra touches.
The CAT jump starter may not have the multi-functionality of other models and there are some improvements that could be made on the design. But it is still highly recommendable especially in a professional capacity and for anyone wanting a strong, reliable way to restart a dead car or truck.
Find more reviews about the CAT CJ3000 Jump Starter on Amazon here.