This post may contain Amazon® product affiliate links. We may receive a commision if you make a purchase after clicking on one of these links but at no cost to you. Please visit Our Privacy & Disclaimer Page for more information. Thank you.
Just How Beneficial And Reliable Is The Clore Automotive JNC4000 Jump Starter?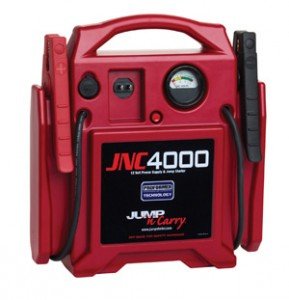 On first impressions, this Clore Automotive JNC4000 1100 Peak amp 12V Portable Jump Starter may not look like much and, to be honest, there is little to be said in a product description for a model than is clearly putting power and function over any attempt at design or flashy features.
The car jump starter simply has an internal charger, 23" leads, 1100 peak ampere and a DC outlet, but does this approach make it reliable and recommendable?
See current price and read customer reviews here
How beneficial is this Clore JNC4000 Jump Starter?
The reviews for this car jumper all tell a very similar story and mostly talk positively about its great features and power. The reliability of this device is arguably its greatest asset because not only has it come to the aid of many motorists and offered a fast, effortless restart, it has been able to do so in hazardous, freezing conditions and no vehicle seems to be too big of a challenge.
The Clore Automotive JNC4000 Jump Starter is generally being used an emergency kit for the average motorist but the impressive 1100 peak ampere and consistency mean that it has been successfully used in used car lots, to keep all the motors running smoothly, and on larger vehicles like snow plows and 18 wheelers.
This great performance is aided by a number of features and bonuses that increase its desirability and ease of use. Buyers are impressed by how well the model keeps its charge and the addition of the gauge for the battery status is a nice touch to help ensure that the device always on hand to help.
Another advantages that may be less obvious at first, but is in no way less beneficial, is the size and shape of the product. These dimensions mean that it can be easily stored within the car without it getting in the way, increasing the chance that it will be with you when you need it most.
What disadvantages does this reliable Clore Automotive JNC4000 Jump Starter have?
It seems that there are three minor flaws with this product: the cable length, the storage temperature and the need for an extension cord. Finding a cord in order to charge the product, on the rare occasions it requires it, and keeping the item warm are just minor inconveniences but the 23" length of the cables is more of a problem and some buyers have opted for alternative models as a result.
Summary: should you add this Clore Jump Starter to your emergency kit?
This model may have some minor downsides, such as the short cables, and buyers may have more improvements they would make given the time; however, the important point it that almost everyone finds it reliable, well-designed and powerful and they quickly gloss over these minor inconveniences.
It is, therefore, easy to recommend this JNC4000 Jump Starter to anybody looking for a simple and efficient product because if it can effortlessly start a giant plow in freezing conditions, it should have no trouble with a regular breakdown.
You can find more customer reviews about this Clore Automotive Jump-N-Carry JNC4000 1100 Peak Amp 12V Jump Starter on Amazon here.