This post may contain Amazon® product affiliate links. We may receive a commision if you make a purchase after clicking on one of these links but at no cost to you. Please visit Our Privacy & Disclaimer Page for more information. Thank you.
Is The Cobra JumPack XL CPP 12000 Jump Starter Able To Deliver On Power And Reliability?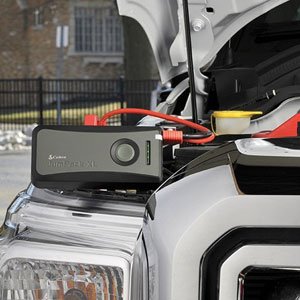 The features list for the Cobra JumPack XL CPP 12000 Jump Starter and Power Pack is full of all the right technical details to draw buyers in. It talks about the 500amp peak current and 41.1Wh lithium cobalt battery for easy jump starting and charging on most small vehicles and portable electronics.
This a 3 amp USB port for phones, two strong clamps for jump starting and a built-in LED flashlight. The makers claim that the Cobra JumPack "has you covered and can keep you going". Is this true, or could it do more to help?
Check Current Price and Availability on Amazon
The pros and cons of this Cobra Jump Starter 
Pros:
A compact design for ease of use
Great battery capacity for dual charging features
Consistent performance in the right conditions
Cons:
Not so reliable in colder regions
Occasional reports of faulty goods
What benefits have buyers appreciated about this Cobra JumPack XL Battery Jump Starter ?
One clear benefit with this device is the compact shape, which is said to be 90% smaller than traditional jump starters. Small dimensions are not uncommon these days with these modern portable jump starters.
However, there are many that highlight this point because it is just the right size for a substantial piece of kit in a more user-friendly shape. It fits nicely in a glove compartment or tool box. The additional carry case is a nice touch with its compartments for all the clamps and cables.
The performance of this mini jump starter is pretty good – in the right conditions. There are plenty of positive reviews from users that have been able to set up this device with ease and use it as both a battery booster and charger.
It is pretty consistent when it comes to charging dead batteries, and has even surprised some users that didn't expect it to do anything.
The promise is that this will charge three vehicles on a single charge, and few dispute this. The electronics charger is also pretty effective and comes with additional safety features, such as the protection against reverse charging and short circuiting.
What problems have users mentioned when reviewing this Cobra Electronics CPP 12000 Battery Jump Box online?
The reason that we stay effective in the right conditions is that there are some users that report difficulties in using this device in cold temperatures. They suggest that it can't handle extreme lows, which could be a problem at night in some northern regions.
Others talk about a complete failure of this device to charge anything at all, but that is most likely due to faulty merchandise than the design of the system.
Summary: what does this mean for the final verdict on this Cobra JumPack XL Jump Starter?
The good news here is that there are definitely far more positive reviews than negative ones for this device. The vast majority of users are happy to recommend this model based on its compact design and the consistency of the performance – both in terms of the jump starting capacity and the electronics charger.
However, the warning about temperatures and limitations is worth keeping in mind. Still, there is little doubt that this Cobra jump starter can act as a great tool for roadside assistance for many happy buyers.
Find more reviews about the Cobra JumPack XL CPP 12000 Jump Starter on Amazon here.