This post may contain Amazon® product affiliate links. We may receive a commision if you make a purchase after clicking on one of these links but at no cost to you. Please visit Our Privacy & Disclaimer Page for more information. Thank you.
Get Power Anytime Anywhere With The Duracell DRPP300 Powerpack Jump Starter
This product is currently unavailable. You can find similar models here.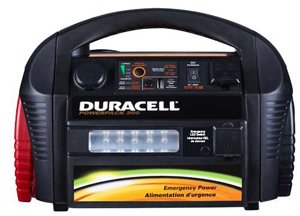 The Duracell DRPP300 Powerpack 300-Watt Jump Starter and Emergency Power Source is a rugged and highly reliable portable power solution which can be used in any situation. You can use it when you are outdoors, for recreation purpose and during power outages.
The compact size of the emergency power source makes it highly portable and easy to use when one requires power. The fact that this product is manufactured by Duracell makes it even more worthwhile because the brand Duracell is a trusted household name when it comes to high quality chargers and long lasting batteries.
Duracell DRPP300 Powerpack Jump Starter Reviews
The Plus Points
What makes this product click is the fact that it is packed with useful emergency and safety features. Thus, consumers would find that it is extremely convenient to use this emergency power source and they can count on this product to provide them with power whenever they need.
Given the compact size, the Duracell DRPP300 Powerpack Jump Starter is perfect for providing portable power to electronic devices and appliances. One of the most important features that people pay attention to when it comes to power backup products is its battery. The battery on this one is a sealed and non-spillable 12 ampere-hour AGM one.
It can be charged on any DC cigarette-lighter or AC outlet. It features a DC socket and two grounded AC outlets and a power inverter which is capable of providing 300 watts of power.
This Duracell jump starter and emergency power source is not just any other emergency power supplier because it comes with a whole lot of unique but useful accessories which are generally not provided with emergency power supplying products!
First of all, there is the 250 PSI air compressor which accompanies the product. One can use this powerful air compressor to inflate the tires of vehicles, toys, sports equipment or even inflatable furniture!
Apart from this, the Duracell Powerpack jump starter also comes with a detachable and rechargeable LED flashlight which comes in handy during many situations.
The Negative Points
Since the Duracell DRPP300 contains a lead acid battery therefore it is necessary that you should charge it at least once every month to enhance its durability and life span.
Also, there are no instructions given about replacing the battery therefore one can either get a new device or replace the battery the DIY way when it dies off. However, this is not much of a problem because the emergency power supplier lasts for a considerably long period of time.
Concluding Thoughts
Despite its minor flaws and drawbacks, the Duracell jump starter and emergency power source is a very useful product. It fits the needs of the modern generation youth and is perfect for emergency situations.
This is a superb backup power source which is sturdy and stable and at the same time light and compact enough to be carried anywhere and everywhere. This is a must have product for car owners because it can jump start any car easily and conveniently.
The internal circuitry of the product is engineered to perfection in order to ensure that the product is protected against overload and overheating. There is also an audible alarm signal which protects against under-voltage and overheating situations by alerting users about prospective safety concerns. All in all, this product is a great investment.