This post may contain Amazon® product affiliate links. We may receive a commision if you make a purchase after clicking on one of these links but at no cost to you. Please visit Our Privacy & Disclaimer Page for more information. Thank you.
Is The GOOLOO 700A Portable Car Jump Starter Really Able To Do It All?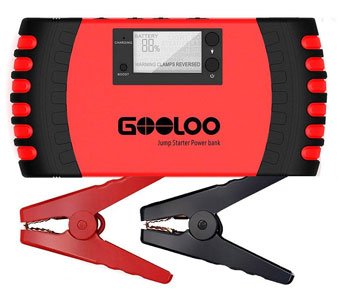 Compact jump starters are more than just battery packs to kick start a dead car now, and this is clear with the feature list of the GOOLOO 700A Portable Car Jump Starter. This small unit is both a 700A car jump starter and 18000mAh phone power bank.
In addition to this, it promises a safe, effective charge with an LCD screen, flashlight and battery status indicator. That safety is seen with the over-current protection, short circuit protection and overcharge protection.
There are some great promises about the performance on motorcycles, motorboats and snowmobiles, but does it really do enough for the average car owner?
What advantages have been highlighted in reviews for this GOOLOO Jump Starter?
It should be all about the power with this sort of machine and there are some great comments from users that are surprised at the performance offered as the ease of effectiveness.
There are many that say that it worked perfectly on the first try on dead car batteries. So go as far as saying that it didn't even drain the unit's charge enough for the indicator to drop below 100% charge. As a result, there are high hopes that the promise of up to 30 charges with 700 Amps of peak current is accurate.
Like most compact car battery jumpers that are around today, this unit doesn't just start a dead car. This system has an 18000mAh Power Bank with Dual USB outputs for a great performance on personal electronics.
Other handy features that buyers appreciate are the DC cigarette lighter socket for simple charging on the road, the bright strobing flashlight and the storage case. There is a lot here to suggest that the designers were keen to cater for road users from many angles.
Are there any flaws in the design or features that limit the appeal of this GOOLOO 700A Portable Jump Starter at all?
Unfortunately, there are a few users that have rated this unit with a poor 1 or 2 star review due to some experiences with faulty good.
There have been occasions where the system failed to charge anything at all. At other times, there seem to have been faulty connections with reports of it damaging phones or catching fire.
However, these scare stories are few and far between and most users are more positive. The only other commonly mentioned negative comment regards the quality of the clamps, as there have been breakages.
Summary: is this GOOLOO 700A portable charging system still recommendable with all of this in mind?
It is easy to be put off by stories of fires and malfunctions, but it is much easier to focus in on the reports from all of those that found that this unit was everything that they needed.
There are always risks of faulty merchandise with products, and the clamps could be better, but most of the features are functional, thoughtful and well-received. The GOOLOO jump starter is a great option for those that want a versatile charging unit that still has the power and longevity of a bigger system.
You can find more customer reviews about the GOOLOO 700A Portable Car Jump Starter with 18000mAh Phone Power Bank on Amazon here.