Is The Halo Bolt 58830 Mwh Car Jump Starter Too Much Of A Toy?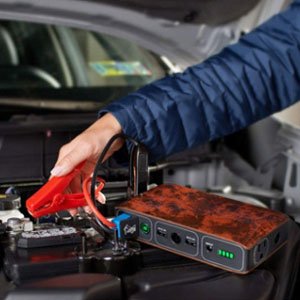 Every car owner should have some form of charging device or jump starter in their vehicle, and the Halo Bolt 58830 Mwh Car Jump Starter is an appealing option for a certain age group.
This model has a 58830Mwh battery and a series of outlets to charge electronics and jump start cars. It stands out from the usual power packs on the market, but is that a good thing?
Check Current Price and Availability on Amazon
The Pros and Cons of this Halo Bolt 58830 Portable Charger / Jump Starter:
Pros:
some unique designs for a younger demographic
simple features for first time users
enough charging options for basic use
Cons:
issues with charging multiple items
minimal practical applications.
The design of this Halo Bolt 58830 Mwh Car Jump Starter is a real talking point for young drivers. 
The best place to start when talking about the potential of this electronics charger is with the power and capabilities. There are many of the typical features included here, with the two USB port for mobile devices, 120V wall outlet and jumper cables for starting a car. This appears to be a power point more than a jump starter, but the application is available.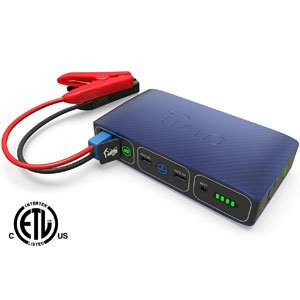 The other thing that users cannot miss with this model is the look. Different companies have different approaches when it comes to the design of these sorts of devices. Some are professional, others more minimalist.
This is different, with the use of bright green LED on the buttons and indicators, as well as the cover on the top.
Buyers have the choice of wood grain, paisley print, a floral design and a rose gold finish. This has no practical application, but does mean that the charger looks good on the passenger seat.
This Halo Bolt Portable Charger looks great and is one to show off to friends, but there are issues with the power and charging options.
The reason for this emphasis on style could be due to the power of the device. There are some that say that it does what they need for charging a phone or tablet.
Others mark the system down for a lack of power. They say that it isn't possible to charge multiple devices because the battery just isn't strong enough.
Many reports come from young users that either have this in their first car, or used it in a girlfriend's car. They find it revolutionary and reliable, but perhaps that is because they haven't seen the more capable devices on the market.
Does this lack of power mean that this Halo Bolt 58830 Jump Starter isn't recommendable to motorists after all?
There are clearly some limitations on what this Halo Bolt portable charger can do. This isn't recommendable for those that need to charge multiple devices at the end of a long day. The capabilities just aren't up to the job.
However, it is recommendable to parents that want their teenage kits to have some form of jump starter or charger in their car.
The ease of use and design mean that they might be happy to be seen using this model, rather than a more "grown-up" option. The Halo Bolt 58830 Mwh Car Jump Starter is a stepping stone device to bigger and better things, but it still serves its purpose.
Find more reviews about the Halo Bolt 58830 Jump Starter on Amazon here.