This post may contain Amazon® product affiliate links. We may receive a commision if you make a purchase after clicking on one of these links but at no cost to you. Please visit Our Privacy & Disclaimer Page for more information. Thank you.
Is The NOCO Genius G15000 Battery Charger As Reliable As Claimed?
The basic specification for the NOCO Genius G15000 Battery Charger/Jump Starter says all the right things to draw buyers in.
The 15amp system has the capacity to charge 6 and 12v batteries, there is an "ultra-safe" deign with protection for reverse polarity and sparks and there are all the cables and clamps needed for a quick charge.
Check Current Price and Availability on Amazon
The company say that this is 9 chargers in one, with the potential for charging different types of batteries.
This apparently also means batteries that are completely dead. There are therefore some high expectations here, but does this unit deliver on its promises?
The Pros and Cons of this NOCO Genius G15000 Battery Charger:
Pros:
the ability to help with different types of vehicles
the versatility of this unit when it comes to maintaining the right batteries
the portable design
Cons:
some issues with the build quality in some units
does not charge dead batteries as claimed.
There are some great features to this NOCO Genius G15000 Jump Starter/Battery Charger that will help the right user, with the right vehicle. 
Many buyers will turn to this device because of its potential to charge lots of different types of vehicles. It is said to be able to handle anything between smaller motorcycles and lawn mowers to bigger watercraft and snowmobiles.
This means AGM and deep-cycle batteries. The positive reviews mostly come from happy car owners, but the capabilities of the jump starting function suggest that it should be reliable enough for larger batteries too.

Then there is the added appeal of battery health and maintenance. The idea here is that the NOCO Genius battery charger is able to repair sulphated batteries in order to prolong their life.
In theory, this should help to improve the performance of much-loved machines, but also save users a little money along the way. This is a nice touch – where applicable – and does give the machine a slight edge over some other designs.
An added benefit here is the small, portable design. The device itself it pretty compact, and should store away neatly enough when not in use.
This balances nicely with the large clamps, which show that NOCO G15000 haven't cut too many corners and shrunk everything. This allows for a device that is pretty easy to use. Many are happy with their choice, but others have found a fatal flaw in the advertisements.
Unfortunately, some of those great sales claims about this NOCO Genius Charging system that are a little misleading. 
The biggest downside with this model is some confusion over the capabilities. There are some descriptions of this charger that suggest that it can charge a fully drained battery with ease. This is one of the main reasons that buyers choose this model.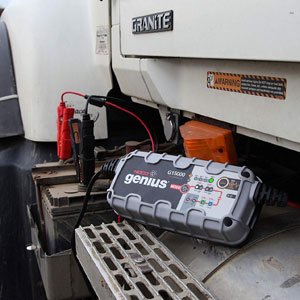 However, some users have tried the product out, only to find that the battery needs some voltage to give it a kick-start. This might explain some of the low rated reviews where buyers say it doesn't work at all. As a result, there are some that find that the machine can't serve its intended purpose. But, as long as the battery is merely dying, not dead, you should be ok.
There are also some rare issues with the build quality where users question the safety of the device. This isn't that common, as most seem to work this charger with few problems. One saw the device catch fire, with no indication over why this happened.
Another opened up his faulty unit to find questionable soldering a wiring. It seems there may have been a bad batch here somewhere. This is a shame when the company were so keen to mention that ultra-safe design in the specification.
Is this NOCO Genius G15000 12V/24V 15A Pro Series UltraSafe Smart Battery Charger still recommendable with all of this in mind?
The bottom line here is that this isn't the charger that some expect. It cannot charge a completely dead battery, despite those initial claims, so fails to deliver for many users. This, along with the rare malfunctions and safety issues, are a disappointment.
However, there is still some potential here when working on batteries that do have some charge left in them. The recommendation with this charger is therefore to re-read the small print and be careful with the applications. Expect too much from this NOCO battery charger and it won't deliver.
Find more reviews about the NOCO Genius G15000 Battery Charger on Amazon here.