This post may contain Amazon® product affiliate links. We may receive a commision if you make a purchase after clicking on one of these links but at no cost to you. Please visit Our Privacy & Disclaimer Page for more information. Thank you.
Does The Slim, Compact Design Of The PowerAll PBJS16000R Mini Jump Starter Work In Its Favour?
This product is no longer available. You can find similar items here.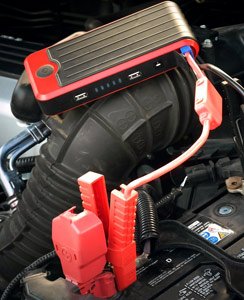 The problem with most jump starters and battery charging units is their size, weight and the difficulty in transporting them around. But the PowerAll PBJS16000R Portable Power Bank and Lithium Jump Starter provides a different approach with its compact shape that should make it much more user-friendly for buyers that are short on space and want a simple, convenient device to help them by the roadside.
This device may be small in stature but it has a 12V 600A jump starter that can apparently kickstart a 6.2L gas engine in seconds and be used up to 20 times on a full charge. It all sounds pretty promising but it is living up to buyer expectations?
What benefits have buyers seen when using this PowerAll PBJS16000R Portable Battery Charger and testing out its full potential?
As this is the 'portable power bank', portability has to be one of the main advantages here. This is essentially a slimmed-down version of a battery charger with a small body and clips that can still be used to jump start a car.
The product description says it will "easily fit into your pocket, backpack or glove compartment for convenience" and while the idea of it being pocket-sized may be a push,  this PowerAll PBJS16000R Power Bank and Lithium Jump Starter is certainly slim enough to be carried around with relative ease.
In addition to being portable enough to take out to charge cars, there are also adapter included that can charge mobile devices and phones, increasing the potential of the little pack even further. Speaking of versatility, there is also the interesting additional feature of the 'ultra-bright' light on the front which promises 120 hours of power for a standard flash light or even an SOS signal.
In many ways this is a small scale version of a larger, more powerful beast but that does not mean that the creators have compromised on the quality or the safety of this model. This device has protection against overloads, short circuits and over charging to keep users safe and ensure that the product remains reliable out in those remote spots.
As for the promise on the power, some buyer have reported that it can indeed bring car batteries back to life within seconds.
On the whole, the device seems to be pretty easy to use with some decent results and effective charging, although there are some people saying that the light settings are little fiddly. Despite this convenience and performance, there are still some disadvantages to going so small and compact.
What are the downsides to owning one of these PowerAll PBJS16000R Rosso Portable Jump Starters?
An interesting disadvantage that some buyers have picked up on is that with all this positive talk about a device that can easily be carried around from job to job, the designers somehow did not think to include a travel case to keep all of the clips and adaptors in one place.
Some reviewers have taken off a star because there were instances when it did not work, for example it failed on a V-8 engine. However, it has tackled a range of device and machines pretty well and this limitation at the top of the scale is not that big a disadvantage relatively speaking. Others meanwhile have mentioned a little weakness to the plastic that is a bit of a concern for a portable model that is getting thrown around a bit.
Summary: is this PowerAll PBJS16000R Portable Power Pack still a highly recommendable mini jump starter?
There is a lot going on with this device that makes it a highly appealing roadside aid and what is interesting is that despite saying that portability was the key feature here, it is the extras like the adaptations for mobile devices and the light that actually make it so appealing and a little bit different to the norm.
There are still some areas that could be improved upon to give users greater confidence in its abilities. With stronger materials and a travel case, lots of buyers can enjoy the charging power and versatility of this PowerAll jump starter and see just how reliable this small, portable device can be.
Find more customer reviews about the PowerAll PBJS16000R Portable Power Bank and Lithium Jump Starter on Amazon here.