This post may contain Amazon® product affiliate links. We may receive a commision if you make a purchase after clicking on one of these links but at no cost to you. Please visit Our Privacy & Disclaimer Page for more information. Thank you.
Does The Rugged Geek INTELLIBOOST 600A Portable Vehicle Jump Starter and Power Supply Really Have Everything That Car Owners Need?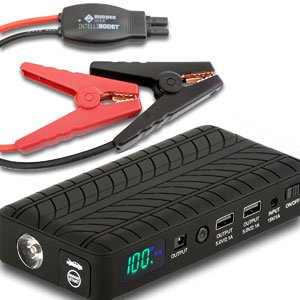 There are many jump starting kits that try and provide something a little different for users, and that is precisely the case with the Rugged Geek INTELLIBOOST 600A Portable Vehicle Jump Starter and Power Supply.
This system is designed to help users recharge their dead car battery, top up the battery on their phones and laptops and inflate their tyres, while also offering vital data via a digital LCD display.
This is the 3rd generation model in this product line, so the designers should have figured out precisely how to make it efficient and effective. Is this the case or are there still some clear flaws to deal with?
What benefits have buyers appreciated with this Rugged Geek RG600 Jump Starter?
It is not so much the jump starter that is the selling point here, but rather the extra features that come with it. This RG600 jump starter comes with an INTELLIBOOST jumper cables for a safer, more comprehensive package.
In addition to this, there is also a flashlight with different sequences, to provide a bright light and extra protection, and 2 USB ports. Many users feel that this is the product that has it all and there is even praise for the texture of the casing and quality of the digital readout.

These additional features are great, but the power and performance of the main jump starting power pack shouldn't be ignored here.
The max 600 amp starting current means that it should easily restart most vehicles and the internal battery has an impressive 15000 mah capacity.
Some users have called the method idiot proof and there are lots of reports about a quick and effective charge on car batteries. It can also handle larger tasks like tractors and other machinery.
Are there any downsides to choosing this Rugged Geek 600A Portable Jump Starter?
The majority of reviews for this Rugged Geek jump starter are very positive, but there are some minor complaints and comments that new users should bear in mind. It will provide a good result if users are patient. There are also comments about the quality of the user manual, although many figured it out despite the odd instructions.
This is where the array of different connectors and cables can also be an issue, but most users would rather have that initial confusion than lose one of the wires.
Summary: does this lack of negative feedback mean that this Rugged Geek RG600 Jump Starter is highly recommendable?
This is clearly a product where the designers have thrown everything they can think of at it to try and please their audience. Buyers love many of the extra features in this system, especially the ability to charge their electronics as well as their car battery, but the fundamentals of a strong power pack and reliable charge are there too.
Results on cars and tyres will vary, and users should not expect a lightning fast response, but the Rugged Geek jump starter provides enough tools and power to ensure that many buyers are happy to rely on it in emergencies.
Find more reviews about the Rugged Geek INTELLIBOOST 600A Portable Vehicle Jump Starter and Power Supply on Amazon here.