This post may contain Amazon® product affiliate links. We may receive a commision if you make a purchase after clicking on one of these links but at no cost to you. Please visit Our Privacy & Disclaimer Page for more information. Thank you.
Are Versatility and Portability Really The Key Selling Points Of The Schumacher PSJ-1812 Jump Starter?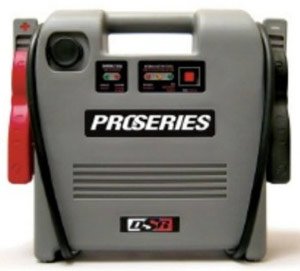 It is automatically clear from the features of the Schumacher PSJ-1812 DSR ProSeries 1800 Peak Amps Jump Starter and Portable Power Unit that the designers have tried to create something powerful and effective with its 1800 peak amp, 225 cold cranking ampere and 28 inch cables. But it is the idea of it being a portable power unit for "comparing, tailgating and power outages" that is more intriguing.
This product also boasts a polypropylene case and automatic charger and it is claimed that with this unit "you will never be stranded without power again". It is a bold promise but can Schumacher live up to it?
Does this Schumacher PSJ-1812 offer this sense of versatility suggested and what other benefits have users seen?
It is interesting that the specification talks about different applications like outages and tailgating as the versatility of the product is a quality that comes through from user reviews, with buyers not only talking about the ability to use it on a number of different engines but as a power source in other situations such as camping.
This Schumacher PSJ-1812 DSR 1800 Peak Amps Jump Starter seems to be fairly reliable in starting car batteries, mowers and other items and generally seems to live up to the expectations of battery life and efficiency that were brought on by seeing it used in a more commercial capacity.
Another interesting plus point brought up by users is the sense of safety and the confidence they have in using it. The "do not freeze" warning may have come as a bit of a surprise and made people a little wary of leaving it outside but they have no concern about shocks because of the design of the clamps and they like that there is no need to keep it plugged in.
Does this Schumacher PSJ-1812 Jump Starter have any problems in its design?
On the whole the reaction to this device and its capabilities is pretty good as it really can handle the range of tasks advertised; however, when it comes to the design there are a few elements that buyers are less impressed with and would like to change.
In some cases these criticisms are over minor personal preferences, like the lack of a decent 120v outlet and the heavy weight but there are bigger concerns over the noise of the fan – which really is surprisingly loud to some – and the reliability of the LED indicators. The jump starter has separate readings for charging status and battery status and some users feel that latter is often considerably off.
Summary: are these design flaws enough to limit a recommendation for this Schumacher PSJ-1812 Portable Jump Starter?
In the end, it is hard not to recommended this jump starter for purchase because even though there are a few negative comments weighing down its approval rating, these issues are mostly minor annoyances and they do not detract from the performance and overall reliability of the product too much.
The Schumacher car battery jumper may be a little noisy and have issues reading battery life but its ability to start such a range of machines in such a range of scenarios means that it still has a lot of merit and could prove to be a helpful aid in many situations.
Find more customer reviews about the Schumacher PSJ-1812 DSR ProSeries 1800 Peak Amps Jump Starter and Portable Power Unit on Amazon here.