This post may contain Amazon® product affiliate links. We may receive a commision if you make a purchase after clicking on one of these links but at no cost to you. Please visit Our Privacy & Disclaimer Page for more information. Thank you.
Is The Schumacher PSJ-4424 Jump Starter As Powerful and Professional As It Suggests?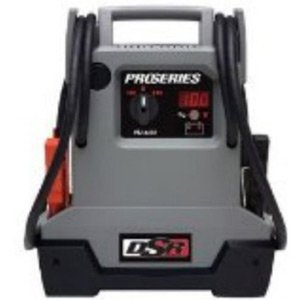 The Schumacher PSJ-4424 Jump Starter is part of the brand's ProSeries and the specification reflects this idea that it is a high-end, professional tool with plenty of power. This portable device uses 4400 peak amps, 500 cranking amps and 415 cold cranking amps and has a built-in automatic charger and LED display to add to the reliability.
Other features include the two 22Ah AGM batteries, 12V DC power outlet and heavy duty clamps. Have the designers done enough to make this pricier product worth more than its rivals?
>>Click Here for Current Price at Amazon<<
What benefits does this Schumacher PSJ-4424 model offer to motorists?
The greatest benefit of owning a Schumacher PSJ-4424 DSR ProSeries 4400 Peak Amps Jump Starter and Portable Power Unit  – according to the many user reviews – has to the the powerful, enviable performance provided by the well-constructed parts and high-end built-in charger.
Users are incredibly pleased by the fact that this model consistently starts a range of vehicles with little effort and great speed, with some even using it successfully on their farm machinery and boats, and there is a sense that it is a professional tool rather than something cheap to throw in the back of a car in case of emergencies.
In all honesty, if you are looking for a high performance jump starter then there is little that you really want it to do other than be easy to use, easy to charge, efficient and effective. Any other features in the specification may initially be seen as a way of trying to stand out from other brands and little more.
However, there is also praise for the 12V outlet, which is seen as surprisingly useful, and the LED display actually gives helpful information on the voltage and charge levels.
Does this Schumacher battery jumper  have any drawbacks in its design or performance?
There are plenty of assurances from buyers that the Schumacher PSJ-4424 Jump Starter is an idea product and users are sure to love it but there are some comments regarding the fan.
Although others are surprised by this and say it is quiet – the heavy 44lb weight and the lack of a charging cable. Additionally, there is also an occasional loss of stars because of the price; it is not the cheapest model around but happier consumers argue that the price tag reflects the greater power and reliability.
Summary: is it really worth spending more to get this Schumacher Pro-series Jump Starter?
The fact that people with lots of vehicles have ordered a second PSJ-4424 is a great recommendation on its own and it is safe to say that the reason for these multiple purchases probably has a lot to do with the reliability and performance.
It seems that all buyers can count on this model to provide a strong jump start in a fast and effective manner no matter what vehicle they come across. This review extends this recommendation by saying that the Schumacher car jumper is ideal for anyone with more professional pursuits in mind that does not mind the weight and would rather pay a little more for high quality and consistency.
You can find more reviews about this Schumacher PSJ-4424 Jump Starter on Amazon here.