This post may contain Amazon® product affiliate links. We may receive a commision if you make a purchase after clicking on one of these links but at no cost to you. Please visit Our Privacy & Disclaimer Page for more information. Thank you.
Save Money By Using The Schumacher SE-1555A Battery Charger With Engine Start For All Your Machines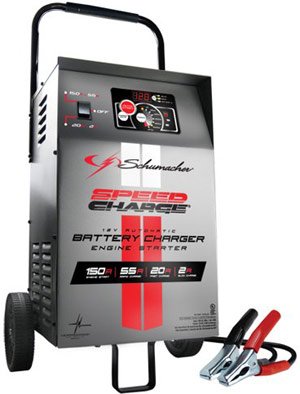 The Schumacher SE-1555A Automatic Elite Wheel 12 Volt Battery Charger with Engine Start is an advanced electrical machine that runs on microprocessor technology, it has the ability to regulate voltage and current output of your battery unit for a more efficient power output.
This contrivance is built to reduce charge time while also maximizing the overall cell life, it works well with both small and large scale batteries. Furthermore, SE-1555A contains a pair of LED light indicators which shine bright when the battery is full and also help in monitoring the reverse hook-up protective features.
>>Click Here for Current Price at Amazon<<
What Customers Said about the Schumacher SE-1555A Automatic Elite Engine Starter
Pros
1. It features a variety of charge rate options including the 150 Amperes quick start, 55 Amp rapid charge, 20 Amp fast charge and 2 Amp trickle charge for small-sized batteries.
2. Has an in-built alternator tester that helps in diagnosing electrical faults and assessing the overall state of your battery.
3. Schumacher SE-1555A Automatic Elite Battery Charger can start automatically after a full charge provided it's connected to the battery terminals, this saves the operator time and energy that could have been used to switch it on/off every now and again.
4. Schumacher is compatible with all types of cell units including the GEL, AGM, deep cycle, spiral-cell, lead acid and standard automotive versions.
5. Despite all the power that's packed within it, SE-1555A is incredibly lightweight and can be carried around with ease from one location to another.
6. To prevent overheating and probable battery explosion, the charger emits power sporadically at regular intervals and not all at once. For instance, it emits 55 amps intermittently after every 60 seconds followed by a 120 sec minimum off.
Cons
a) The charger may suddenly lose its effectiveness after being used for a considerable amount of time, when this happens it just sits there and hums all day without putting in any power.
b) Schumacher is not suitable for commercial heavy-duty tasks, this is because the wire that passes through its positive and negative terminals may fray with time. Rendering the machine completely useless.
c) Though the manufacturers say it works perfectly on automatic console, some customers have raised concerns that only manual mode is functional. Auto seems to be just a promotional gimmick.
Conclusion
The SE-1555A is a super-powerful battery charger that's delivered solidly packed with an instructions manual also fitted inside. Apart from car batteries, it can also be used to provide power for speed boats in which case it only takes 20 minutes to reach full charge. In short, Schumacher is a multi-purpose charging unit that drives both small and large scale machines-with zero probability of failure.
It's easy to operate and would perform every other task available without running out of steam. Moreover, the smart regulator system is designed to detect when the battery is full and initiate an automatic stop so as to prevent overheating.
This is one of the few brands with a digital readout feature for battery level and voltage amps. Furthermore, the Schumacher jump starter has a pair of wheels and handlebar that can be used to drive it from one place to another. Plus there's a fan belt that helps in cooling off the machine when running on full throttle.
You can check out more customer reviews about the Schumacher SE-1555A Automatic Elite Wheel 12 Volt Battery Charger with Engine Start on Amazon here.