This post may contain Amazon® product affiliate links. We may receive a commision if you make a purchase after clicking on one of these links but at no cost to you. Please visit Our Privacy & Disclaimer Page for more information. Thank you.
Is The Suaoki 600A Peak Portable Car Jump Starter Really A 4-in-1 Solution?
This product is no longer available. Click here for a newer model at Amazon.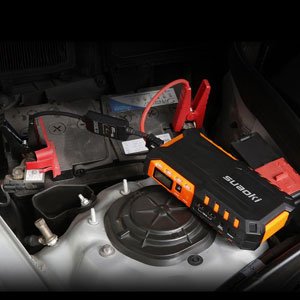 The Suaoki 600A Peak Portable Car Jump Starter is one of those models that is designed to be much more than a jumpstarter. This jumper pack has the power and clamps to start a car, but there is also an air compressor, an LED flashlight and the chance to use it as a power bank.
This self-proclaimed "four-in-one solution" should an appealing option for anybody that wants to be completely prepared for roadside emergencies. Do all of these features prove their worth, or is this a jack of all trades and master of none?
What benefits have buyers mentioned in their reviews for this Suaoki 600A Jump Starter?
Starting with the ability to start a battery and help with roadside assistance, there are some great features within this model. The system is designed for use with cars, trucks, motorcycles and even boats. It has a battery capacity of 18000 mA, which is said to allow for 22 starts on one charge, and there is short circuit protection in the clamps.
There is also a smart USB port so that users can charge their devices. The positive reviews seem to suggest that this is a case of "so far so good". Not all users have put the machine completely through its paces, but the charging ability, ease of use and the battery life all seem to be holding up well.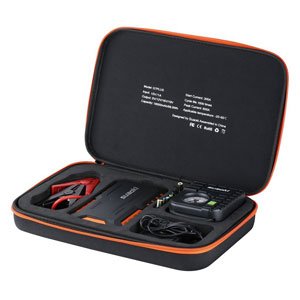 In addition to offering a multifunctional performance, this model is designed to be tough and portable in order to increase its convenience. The EVA case should be able to take a drop or two and the whole system is small enough to be stored away with ease. Many are keeping this in their glove box for emergencies and agree that it is well made.
What drawbacks should consumers be aware of with this Suaoki 600A Peak Portable Jump Starter?
There are always going to be instances when buyers receive a faulty model by mistake or they find that they cannot start their particular car. This instant failure leads to 1 star reviews that drag down an otherwise positive score.
There are also comments about the quality of the air pump, which suggest that air compressor element was something of an afterthought following the charging tech. It is a nice extra, but it is not as reliable as some would have like and looks like it may not last so long.
Summary: is the Suaoki Car Battery Jump Starter a recommendable option with all of this feedback in mind?
In the end, this model is still recommendable for anyone looking for a model for emergencies because those benefits do outweigh the negatives. There are plenty of buyers that are charging car batteries with ease without needing to constantly recharge the unit.
At the same time, many are able to charge their smartphones while on the road and have greater peace of mind about their ability to handle an emergency. Add in the questionable compressor and the glove-box friendly design and it is easy to see why the Suaoki jump starter gets so many good reviews.