Is The Booster PAC ES2500 Jump Starter Really The "Perfect Companion For Any Situation"?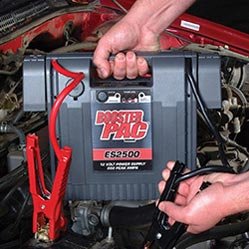 The photos of the Booster PAC ES2500 Booster PAC 900 Peak Amp 12V Jump Starter may make it look like any other product of this nature to the untrained eye but the repeated promise of it being the "perfect companion for any situation in which you need portable power" helps the Booster PAC stand out on its own.
This model offers a power of 900 peak amps and 300 cranking amps for jump starting, industrial grade "Hot Jaw" clamps and automatic charging – among other top features.