This post may contain Amazon® product affiliate links. We may receive a commision if you make a purchase after clicking on one of these links but at no cost to you. Please visit Our Privacy & Disclaimer Page for more information. Thank you.
Is The Weego JS18 18000mAh Jump Starter Too Focused On Portability And Multiple Charging Options?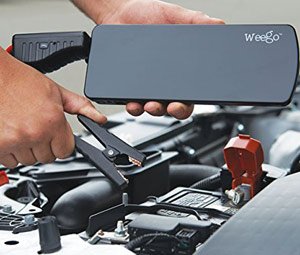 The basic model of the Weego JS18 18000mAh Jump Starter looks more like a hard drive than a jump starter, with its small shape and lack of parts. This tiny 18000mAh model contains a powerful 12V lithium-ion battery and all of the different ports and connections required.
There are two USB outlets for mobile devices, a 3-in-1 USB wire, 8 different laptop connectors, jumper cable for starting a car and even a built-in LED flashlight. It seems that Weego have thrown everything into this product to make it as compact and multi-functional as possible, but has that led to a desirable product?
What benefits have been noted with this Weego Jump Starter?
One of the key selling points with this product is the portable nature. It not be a pocket-sized model, like the specification claims, but it is still light, compact and easy to throw into the back of a car or the glove box. It even comes with a carry case. This all means that it is convenient enough to be relied upon when needed, even with all of those extra parts to consider.
Reviews on the performance of this product are always going to be mixed when users have such different expectations and are using the product on different machinery.
Those that are happy with the performance say that their cars started with little trouble, the connections of the jumper cables were adequate and it also does a good job or charging phones.
This versatile device is meant to charge phones, laptops, portable USB devices and gas engines over 6.4L Most seem happy enough with the power and speed of this device on the smaller items and engines, but others say it did not meet their needs.
Why do some buyers find that this Weego JS18 18000mAh Battery Jump Starter is problematic?
Aside from the reports of models that didn't work as hoped and minor complaints about the ergonomics, the biggest issue for many users is that the power pack doesn't seem to hold its charge very well. The promise is that this product "only loses 2% charge per month when stored", but this is greatly contested.
Many will find that it does a good enough job of charging up electronics and starting cars just after the unit has been charged up, but this life diminishes pretty quickly when the product is left idle. There are also comments that the wall plug can get a bit hot after a while.
Summary: how does this feedback affect the final verdict on this JS18 18000 mAh Charging Unit?
Critics that have failed to charge the restart the large engines of their boats and other powerful machinery say that this product is little more than a "glorified cell phone charger", but those that have seen the full functionality of this product are quite impressed.
There is great potential to this model thanks to the battery power, portable size and accessories – even if there are some limitations to what it can charge and a low battery life – and most users would still recommend the Weego jump starter for purchase.
Click here for more reviews about the Weego JS18 18000 mAh Jump Starter on Amazon.