This post may contain Amazon® product affiliate links. We may receive a commision if you make a purchase after clicking on one of these links but at no cost to you. Please visit Our Privacy & Disclaimer Page for more information. Thank you.
Is The Weego Jump Starter 44 Portable Power Source & Tactical Light As User Focused As It Seems?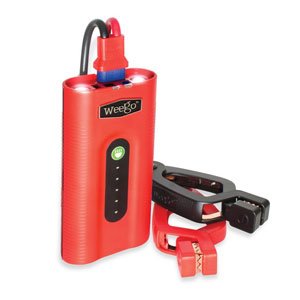 The Weego Jump Starter 44 Portable Power Source is designed to start everything from cars and motorcycles to boats and trucks, and can also be used for charging electronics. First impressions are that this little red box is tiny.
However, this set up is designed to be powerful and convenient enough for multiple purposes. It has special "patent pending" safety clamps with safety protections and the "smart box" includes a series of visual and audible indicators to help users with their task. There is a lot to like here, but does it all work?
Click Here to See Current Price on Amazon
What benefits have buyers seen when testing out the capabilities of this Weego 44 ?
One of the main selling points here is the way that this has been created with users in mind. There are claims that it is "surf and turf approved". This is a curious statement that relates to the ability to use it in a range of conditions.
There is an additional waterproof pouch in the box. It is resistant to water and also protected from dust and dirt. Another helpful feature is the 500 lumen light for a flashlight in the dark, strobing and an SOS signal if in distress on the roadside.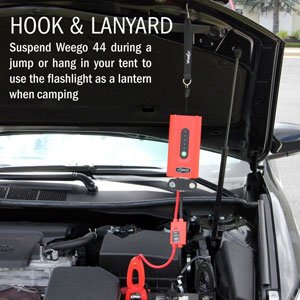 There are lots of reviews talking about a great performance on different electronic devices and vehicles, which suggests that it is reliable in many situations. It comes with a "detect-o-matic" USB charger for connecting phones and other portable devices and this seems to be appreciated by most buyers.
What is interesting is the sense that this really is an idiot-proof option. Those indicators are a nice touch, as is the user-friendly manual that guides newcomers through the process.
Are there any downsides to owning this interesting new Weego battery jumper?
The makers claim that the Weego 44 provides over 1000 full charging cycles with a loss of charge of just 2% per month. Some buyers dispute this, but are still content with what they get.
There are also some complaints about that waterproof pouch being a little flimsy for transportation. This is high-end model that deserves a sturdier case with protection for the clamps and wires.
Summary: is this Weego Car and Mobile Jump Starter highly recommendable with these pros and cons in mind?
There is the sense that the makers of this device took a different approach and put user needs in front of performance, power and speed. It does provide a strong charge with little concern, but it is the design and ease of use that makes this model stand out from the crowd.
The manual, lights, clamps and controls are all designed for a simple process and good result. With a better battery life and a stronger case, this Weego car battery jump starter would be seen as a great product to buy.
Find more reviews about the Weego Jump Starter 44 Portable Power Source & Tactical Light on Amazon here.