This post may contain Amazon® product affiliate links. We may receive a commision if you make a purchase after clicking on one of these links but at no cost to you. Please visit Our Privacy & Disclaimer Page for more information. Thank you.
Can The Heavy-Duty Bolt Power N02 Jump Starter Outperform Rivals?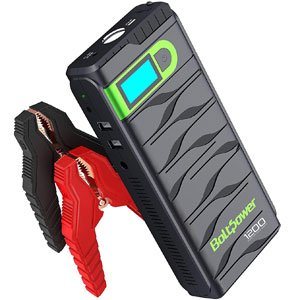 On first impressions, the Bolt Power N02 Jump Starter looks like many other modern jump starters. There is a small unit with all the right outputs and cables for multi-purpose charging.
It should be able to handle gasoline cars up to 7 litre and most mobile devices. It has QuickCharge USB outputs and an LED flashlight. It seems to cover all the bases, but how does it perform?
Check Current Price and Availability on Amazon
The Pros and Cons of this Bolt Power N02 Car Battery Jump Starter:
Pros:
a strong battery life
great clamps
plenty of safety features
Cons:
a bit of learning curve
needs a better manual
There are some great positive comments about the performance and battery of this Bolt Power N02 Jump Starter.
Buyers are pretty impressed with the battery in this little power pack. Many comment on the fact that it can handle multiple vehicles on one charge. This gives the kit more potential in professional situations.
There are more positive comments about the abilities for car batteries than electronic items. Still, many do manage to charge phones with no problem. The digital display is a nice extra touch for the status of the battery.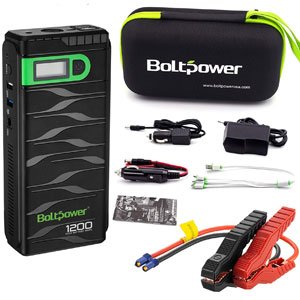 A common problem with compact jump starter units such as this is that they aren't always as tough as they could be. That is why it is nice to see such strong heavy duty clamps on this Bolt Power model. This should help with a more secure connection for that charge.
An added benefit to these cables is the amount of safety precautions built-in. They have circuit protection, alongside the additional overload and overcharge protections in the system.
This means better peace of mind when charging those electronic items, as well as the car.
The downside is that this Bolt 1200 Amp Battery Jump/Power Charging Unit isn't the most simplistic model to use.
The biggest issue here seems to be ease of use. There are plenty of great features and options with this model, but some have their own little tricks in order to work. This can be frustrating for those caught out during roadside assistance, or those that haven't read the manual.
On that note, some find that reading the manual doesn't always clear things up straight away. There is an English section that appears to have been poorly translated.
Once users get to grips with the little quirks, there are plenty of benefits. But, it just takes a little longer than hoped for.
How does this issues affect the final recommendation for this Bolt Power N02?
The learning curve on this device will pose a problem for some users. This seems to be better suited to those that have some experience with jump starters, rather than new motorists after a fool-proof approach. This plays into that idea of a more professional model for multiple charges and roadside assistance.
Therefore, this unit does have potential in the right pair of hands. The strong battery, reliable charging and safety features all help to ensure a great performance. Add in the light and display and this Bolt jump starter is still a winner.
Find more reviews about the Bolt Power N02 Jump Starter on Amazon here.