This post may contain Amazon® product affiliate links. We may receive a commision if you make a purchase after clicking on one of these links but at no cost to you. Please visit Our Privacy & Disclaimer Page for more information. Thank you.
Is The DEWALT DXAEPS2 Professional Power Station/Jump Starter Too Old Fashioned?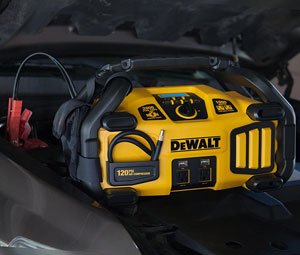 With the current trend toward small, slim power packs for the car, the DEWALT DXAEPS2 Professional Power Station looks quite old-fashioned.
It has that more traditional black and yellow design, a wider, more robust body and a slightly different approach. This "professional" option should be tough and powerful for greater needs.
Check Current Price and Availability on Amazon
The Pros and Cons of this DEWALT DXAEPS2 Power Station:
Pros:
reliable charging on vehicles of different sizes
a good build and some nice cables for added peace of mind
plenty of additional functions to help users in different situations.
Cons:
the sizes makes this a heavier option than many modern power packs
there are some issues with the accessories
This bulkier DEWALT Professional Compressor/Power Station has an impressive combination of power and features.
The main talking point with this model is the power and reliability on offer. This DEWALT battery jump starter provides 2800 peak amps with the addition of the heavy duty, power coated metal clamps. Those clamps have 36'' inches on the cables for a better reach to car batteries when jump starting.
It is pretty quick to jump start vehicles and reliable in many situations. Many note that it is useful on larger vehicles too. Then there are those using this model with great success during blackouts.
This pack looks like an old-fashioned model. However, it also has many of the features that users now come to expect from modern power packs.
There are additional charging solutions with the dual 3.1 amp USB outlets, an LCD display that offers information on the progress of the charge and a 120psi compressor.
There is also an LED light. This is not the strobing flash light of other models, but is still a reliable source of illumination on dark roads.
There are lots of people that are impressed with this DEWALT DXAEPS2 Professional Power Station, but some still see room for improvement. 
There is a lot to love about this jump starter system, but there are also some areas for improvement. The first is that it needs a stronger case than the fabric one that is comes with. Buyers wont something a little more robust that they can throw around.
There is also no 12v output, unless many other models available, with reduces the charging capabilities. Others were disappointed to find that there was no power cord, with users having to supply their own. The other complaint from users is that this is very heavy, but that is to be expected with this sort of model.
Is this DEWALT DXAEPS2 Multi-purpose Power Station still recommendable with all of these issues in mind?
Some people will struggle to get along with this model because of the size and weight. Many prefer the slim, portable packs these days. However, there is no doubt that this machine can deliver on power and functionality.
This models blends the older, tougher units with their powerful capabilities, with the multi-purpose approach of modern options. This machine helps users out in many different situations with ease Therefore, this DEWALT jump starter is definitely worth a second look when planning both roadside assistance and blackout solutions.
Find more reviews about the DEWALT DXAEPS2 Professional Power Station on Amazon here.