This post may contain Amazon® product affiliate links. We may receive a commision if you make a purchase after clicking on one of these links but at no cost to you. Please visit Our Privacy & Disclaimer Page for more information. Thank you.
Is The GOOLOO 1000A Peak 20800mAh Portable Car Jump Starter As Powerful As Claimed?
The GOOLOO 1000A Peak 20800mAh Portable Car Jump Starter is an appealing idea for all those that fear becoming stuck at the roadside. There is a risk of being stranded with a dead battery, no phone and no way to signal for help.
This battery jump starter aims to help with all these issues. There are great promises over the power and reliability of the machine, but does it live up to them?
Check Current Price and Availability on Amazon
The Pros and Cons of this GOOLOO 1000A Portable Jump Starter:
Pros:
tough enough for big vehicles, with the power and heavy duty clamps
lots of features in a convenient package
a reliable charger for other electronics
Cons:
doesn't hold its charge that long
needs some longer cables
This GOOLOO Portable Battery Charger/Jump Starter is tough enough to handle many tasks, while remaining user friendly.
There are many buyers that praise this jump box for the way that it handles all sorts of battery issues. There are many that have restarted their car, or larger vehicle, with minimal effort. The promise here is that this GOOLOO jump starter will handle 12V cars up to 8L, via strong clamps.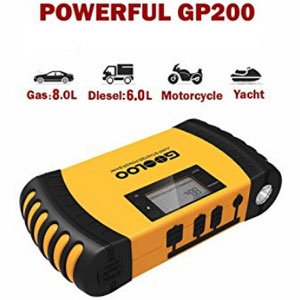 In fact, this clamps have been upgraded so they are 50% larger and more durable than before. These clamps are part of a larger pack of items that includes the unit, car charger, manual and storage case. There is also an LED flashlight built-in with an SOS strobing effect. This package aids to the appeal for many motorists.
The other selling point to this device is the fact that it can charge more than just car batteries. This 20800mAh capacity battery pack also has dual USB ports for use with electronic items.
This means that users can recharge phones and tablets on the journey. A 3 in 1 USB cable is included in the box to help. This charging system seems to be as reliable as the battery booster.
There is still some room for improvement with this GOOLOO 1000A Portable Car Jump Starter.
There are plenty of helpful features here for a positive experience. Yet, there are also some areas in need of improvement. The first is the battery life of the device itself. There is the promise here that it can perform up to 30 times on a charge with 1000 amps of peak current.
This is perhaps a little ambitious in some cases, as some buyers say that it loses charge too easily. Perhaps this is only true in immediate succession. At least there is the benefit of the LCD Screen that informs users of the status of the battery. The other problem is the length of the leads. The cables could be a little longer for improved ease of use on the roadside
Does this all mean that the GOOLOO 1000A Charger is highly recommendable?
There are factors that could be improved here, but the overall performance and design of this jump pack is still highly appealing. The battery issue doesn't hinder the power offered on individual charges and there is also that reliable charging pack for electronics.
The issue with the leads is an inconvenience, but this balances out with the use of the LCD screen, flashlight and other extras. In the end, it is easy to recommend this GOOLOO jump starter to motorists that want to make sure they are covered in an emergency.
Find more reviews about the GOOLOO 1000A Portable Car Jump Starter on Amazon here.