This post may contain Amazon® product affiliate links. We may receive a commision if you make a purchase after clicking on one of these links but at no cost to you. Please visit Our Privacy & Disclaimer Page for more information. Thank you.
Can The Suaoki U28 2000A Peak Jump Starter Really Call Itself A Functional 3-in-1 Device?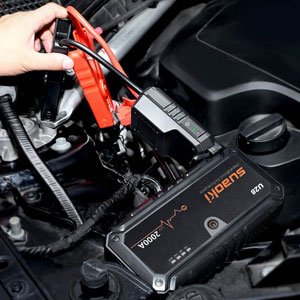 The Suaoki U28 2000A Peak Jump Starter is a neat little battery pack with a 2000A peak jump starter and a power pack for electronics. This means 5V dual USB ports for phones and a 12v DC power output for other systems. So what makes this a 3-in-1 jump starter rather than a 2-in-1 model?
The difference here lies in the emphasis that the designers have placed
on the LED light. Some add a simple white light for illumination, but there is the clear sense that Suaoki wanted to elevate this feature a little further. Were they successful and are the other key elements of this device able to live up to user expectations?
Click here to see current price
The pros and cons of this Suaoki U28 Jump Starter 
Pros:
Great multifunctional light source
Different methods of charging
Reliable, strong power source
Cons:
Rare compatibility issues
Rare faults with dodgy merchandise
What advantages have users seen when choosing this Suaoki 2000A Car Battery Jump Starter ?
Starting with that light source, this LED feature really does go further than some other devices in regard to the functions and colours. There is the white light flash light that offers a basic beam, a strobing effect or an SOS sign.
There is also a stronger red light for hazards and warming and a series of additional blue LEDS for information on the status of the battery. The white light is strong and functional, the blue lights are helpful for maintaining the reliability of the device and the red is a nice bonus.
When it comes to the power and function of the Suaoki jump starter and power pack there are also plenty of positive reports. There are great comments in online reviews about the speed of charging, the power offered by the large battery and the ability to handle a range of situations.
Added benefits with this car battery booster include the smart clamps that prevent short circuiting, overheating, reverse charging and more. This seems to work well enough with no complaints.
Are there any clear faults to this Suaoki U28 2000A Peak Jump Box that buyers have mentioned?
There isn't much to say when it comes to the downsides of this portable jump starter because so many of the reviewers offer praise on every element. There is a warning from some that new buyers should make sure to pick the right model for their size of motor.
There are also no reports about use on boats, which is part of the initial sales pitch, so it is unclear if it really is strong enough for this option. The only major complaints follow the arrival of faulty merchandise.
Summary: does this lack of negativity mean that this Suaoki U28 Jump Starter/Charger/Light is highly recommendable?
This all means that it is easy to recommend this device to anyone in need of a multifunctional jump starter that isn't too complicated. The portable jump starter and charging elements are effective and consistent without getting too technical.
The light really is an improvement on other devices. There will be those that find that it isn't fit for purpose, but the vast majority of buyers should find some help with this Suaoki jump starter.
Find more customer reviews about the Suaoki U28 2000A Peak Jump Starter Pack with Dual USB Port Power Bank on Amazon here.