Does The Slim, Compact Design Of The PowerAll PBJS16000R Mini Jump Starter Work In Its Favour?
This product is no longer available. You can find similar items here.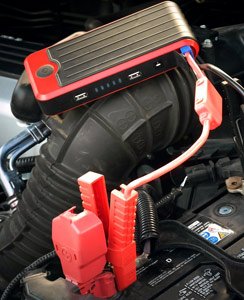 The problem with most jump starters and battery charging units is their size, weight and the difficulty in transporting them around. But the PowerAll PBJS16000R Portable Power Bank and Lithium Jump Starter provides a different approach with its compact shape that should make it much more user-friendly for buyers that are short on space and want a simple, convenient device to help them by the roadside.
This device may be small in stature but it has a 12V 600A jump starter that can apparently kickstart a 6.2L gas engine in seconds and be used up to 20 times on a full charge. It all sounds pretty promising but it is living up to buyer expectations?