Can't Get your Car Started? Then Maybe You Need a Bit of an Assist from the JNCAIR Jump Starter!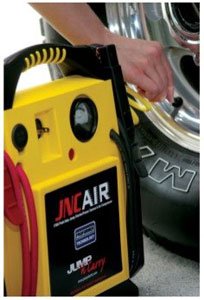 A Popular Choice Among Consumers – While you see the word jump starter defined by various terms—booster cables, battery boosters, booster boxes, or boosts—they can all vary in their ease of use and level of power and safety. That's why it's important to carefully scrutinize your choices when you are shopping for the boosters online.
One car jump starter that is a popular choice among consumers is the Jump-N-Carry JNCAIR 1700-Amp 12-Volt Jump Starter with Power Source and Air Compressor.